Recipe for straw hat making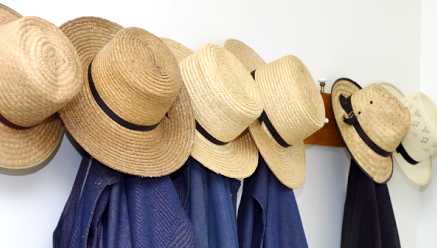 Have you noticed that Amish men wear straw hats? Did you notice there are specific styles of hats? We will take a peak into the making of a Swartzentruber straw hat in Holmes County, Ohio

Amish do not wear hats made in China. There is a local Amish owned business that produces thousands of hat and supplies them to many Amish communities. This particular business makes about 6 - 8 varieties of straw hats and mass produces them.

There are a few local Amish ladies who also make hats.

I met Sarah who is a member of the Swartzentruber group. She makes hundreds of hats not only for her group but for retail stores in the area to sell to both local Amish men and visitors. It is perfectly fine to buy a straw hat even if you are not Amish.

The day I picked up my order, she was sitting at her treadle sewing machine stitching row after row of weaved straw that she gets in bulk from Mexico.

I noticed her work room where she had a variety of hat forms. These forms determine the size of the hats.

For the very top portion of the hat, she cuts out various size patterns from cereal boxes. She inserts the cereal box forms inside the top portion of the hat to hold the shape.

Once she has sewn the weaved straw strips together, she has to wet it enough in order to bend the straw around the mold.

When the straw is still wet, she places red bricks around the edges in order for the brim to stay flat. Please note: Swartzentruber straw hats must have a 4" wide flat brim. They do not wear other styles of hat as other Amish may do.

Once the straw dries, she will label the size of the hat and display them in her backroom.

Local men know her and they buy them directly from the "man"-ufacturer herself. They usually retail around $18.00 - $20.00

Regardless what "recipe" you'll find in Amish Country, I can guarantee you it will turn out great!


From - https://atasteofthebackroads.c...