A Winter Wonderland!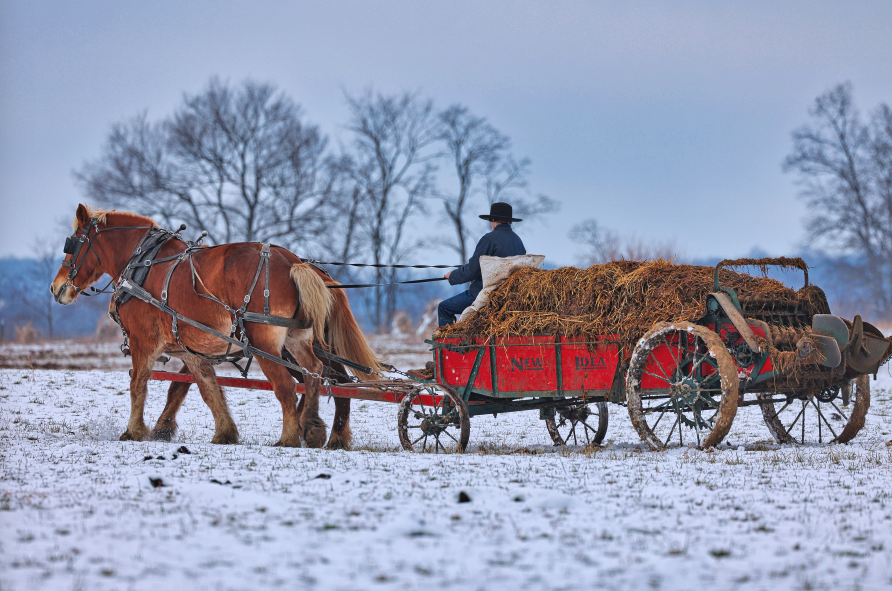 Wayne County is a winter wonderland, said Riley Troxell, marketing specialist for the Wayne County Convention and Visitors Bureau.
"It is remarkable how beautiful the winter is here," she said. "We have a lot of charming trails where you're able to take in the scenery and experience the winter silence. It's very peaceful and nice."
The county's natural beauty is just one reason to visit the "Gateway to Amish Country," Troxell said.
"Wayne County is at the crossroads of culture and countryside," she said. "Visitors can experience the culture of downtown amenities in larger towns like Wooster and Orrville, and we also feature the beautiful rolling hills and picturesque landscapes of the rural areas. If you're a city person looking to get away, you can enjoy the comfort of having a variety of restaurants and local shops nearby, but you also can experience nature. We offer the charm of Amish Country, but also so much more, with something to interest almost anybody."
Named for Revolutionary War Brig. Gen. Anthony Wayne, the county is Ohio's 13th largest, covering more than 550 square miles. Its rich soil and plentiful water supply have long supported a strong agricultural community — farms and roadside produce stands continue to dot the highways. Meanwhile, Wayne County's industrial history grew with coal mining and railway access during the late 1800s.
Nearby, guests might get started on their holiday shopping at unique stores like Lehman's Hardware in Kidron, P. Graham Dunn in Dalton and the J.M. Smucker Co. Store in Orrville.
"Pine Tree Barn (south of Wooster and overlooking the Kilbuck valley) is not only a Christmas tree farm, but the historic dairy barn has also been transformed into a gift shop with holiday decorations and a restaurant," Troxell said. "Galehouse Tree Farm in Doylestown is another Christmas tree farm where you can take your family and pick out your tree."
For post-holiday winter fun, Alice Noble Ice Arena offers ice skating and special events throughout the year, Troxell said.
"Many people start their New Year off with a polar plunge into one of the county's many lakes and ponds," she said. "The specific locations vary from year to year."
For a decidedly warmer event, Troxell suggested an evening relaxing before a fireplace at Wayne County's many wineries, like Bent Ladder Cider and Wine and Silver Run Wine in Doylestown and Blue Barn Winery, Grigio Wine & Cocktail Bar, JAFB Wooster Brewery, Lincoln Way Vineyards, Minglewood Distilling Co., and Troutman Vineyards and Winery in Wooster.
Visitors may choose to unwind with a cocktail or a refreshing glass of wine in Wooster's trendy Designated Outdoor Refreshment Area. The DORA Zone is a designated area in the city's historic downtown area where you can get an alcoholic beverage from one of your favorite bars or restaurants and walk around enjoying evening air. Participating shops have signage to indicate that drinks are welcome.
Along with abundant park spaces, including more than 25 walking paths and preserves, Wayne County provides a wealth of educational opportunities, including 10 local historical societies that are rich with local history. The Secrest Arboretum, a free botanical garden on the Wooster campus of the Ohio State University, offers 110 acres of a living museum of plants from all over the world. Secrest's documented plant collection features more than 3,500 different types of trees, shrubs and herbaceous perennials, exhibiting the diverse range of plants suitable for outdoor cultivation in Northeast Ohio.

You can learn more about things to do in Wayne County at WCCVB.com.