Sugarcreek: Little Switzerland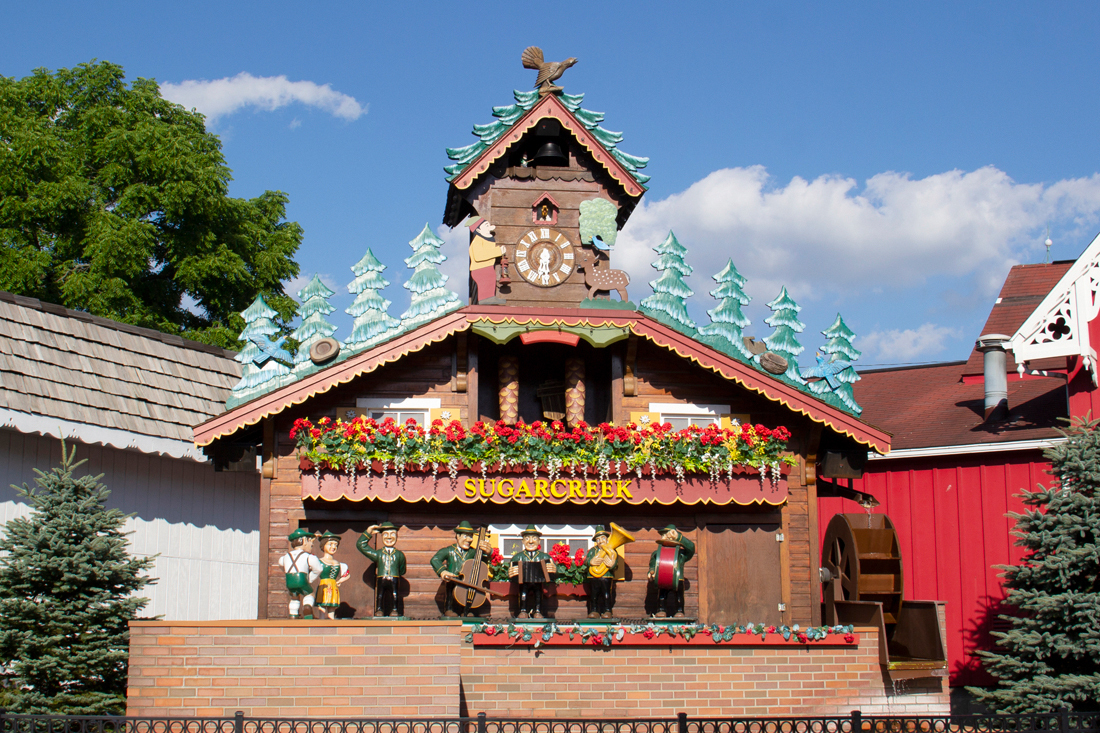 With its ever-present polka music filling the village air and Alpine-influenced décor adorning its quaint structures, Sugarcreek is a happy, relaxing place to visit.

"Life just moves at a slower pace here in Sugarcreek," said Christine Quickel, the village's marketing administrator "There's no other place quite like it."

The "Little Switzerland of Ohio" offers an abundance of unique experiences that can be as simple as just taking in the village's cheerful and peaceful ambiance, Quickel said. On the rural roadways surrounding the village, passing motorists are inclined to be greeted by the sight of farmers planting crops or training young horses for work in lush green fields that burst into brilliant shades of red, yellow and orange in the fall.

Sugarcreek was settled by Amish and other German and Swiss families, the latter of whom made the village famous by their cheese-making skills. The Alps may be conspicuously absent from Sugarcreek's hilly horizon, but apart from the missing moun-tainous vistas, village visitors might easily imagine themselves touring the streets of a small Swiss town — by foot or by horse-drawn buggy.
Sugarcreek visitors may be enticed by engaging museums and one-of-a-kind attractions, Quickel said. Among them is the World's Largest Cuckoo Clock, featuring the joyous music of an oompa band and an animated dancing couple who welcome delighted onlookers every half hour. It is the signature attraction in Downtown Sugarcreek. The impressive 24-foot-high clock, at the intersection of East Main Street and Broadway, is surrounded by elaborate hand-painted murals that depict breathtaking Swiss landscapes amidst the musical backdrop that permeates the village air. The historical murals adorn the facing of seven buildings, while across from the cuckoo clock, a 112-foot-long, 13-panel brick wall details the area's history through sculpture.

The region's rich history also is shared at such informative attractions as the Alpine Hills Museum and the unique Age of Steam Roundhouse Museum. The roundhouse museum, which features the largest private collection of steam engines in the United States, helps to preserve America's railroad history.

"The roundhouse is the only one of its kind in the country," Quickel said. "Even if you're not a train person, you'll find it to be magnificent."
The 34-acre site includes 22 steamers surrounded by a depot, a store house, a coal loader, a wood water tank, an ash pit, a back shop and — the jewel of the site — a working 18-stall brick roundhouse that surrounds a 115-foot turntable.

The Alpine Hills Museum — which is free to visit — displays a 19th century Amish kitchen and an 1890s cheese house among its three floors of history. The museum also serves as a tourist information center where maps, brochures and other helpful information can be obtained.
Guests who visit Sugarcreek, she adds, are very likely to return home with more than just wonderful memories. That's because the quality furniture, home goods, antiques and local works of art may prove too tempting to leave behind in the village's many charming shops. Along with a variety of gift shops, the village also hosts many local wineries.

You can find more information at visitsugarcreek.com.
Visit Sugarcreek online at www.villageof-sugarcreek.com or call 330-852-4112. Reach them via email at contactus@villageofsugarcreek. com for more information.