An Amish woman's role in the family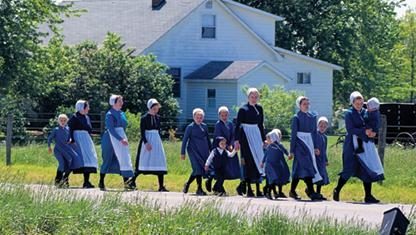 Doyle Yoder photo.
When an Amish woman gets married she will refer to her husband as the "head" of the family, with that said, she will take part in most of the family financial decisions. Matters of the home, the garden, and the children are her main responsibility. Most will have control of the family checkbook and their name will be listed on property deeds with their husband. Some Amish women own and operate their own small business, such as raising poultry or vegetables, baking, or sewing quilts and other handcrafted items. Some run bakeries, fabric shops, restaurants and more.

While Amish families follow the traditional customs of allowing men alone to act as officials in the church such as bishops, deacons, and elders, a woman has an equal vote in the functions of the church. Although the father serves as the spiritual head of the home, mothers are very active in nurturing the spiritual life of children. Amish women may live a more plain life than their English neighbors, but they are far from being oppressed, and are equal members of their families and the Amish community.

It is clear that women are valued in Amish culture, and on some levels are even afforded types of equality and freedoms that women outside of Amish society might not be. In Amish weddings, for example, the woman is not "given away" by her father to her future husband, as is often done in non-Amish weddings. Instead, the couple walks through the door together.

In Amish society, the home is at the center of communal ties, and Amish women play an important role in managing it. They are responsible for the daily tasks of running a household and raising children. Mothers contribute to the community by teaching their children about traditional Amish life, preserving cultural practices and values.
Additional Source: AmishAmercia.com