Visiting Ohio's Amish Country in the Fall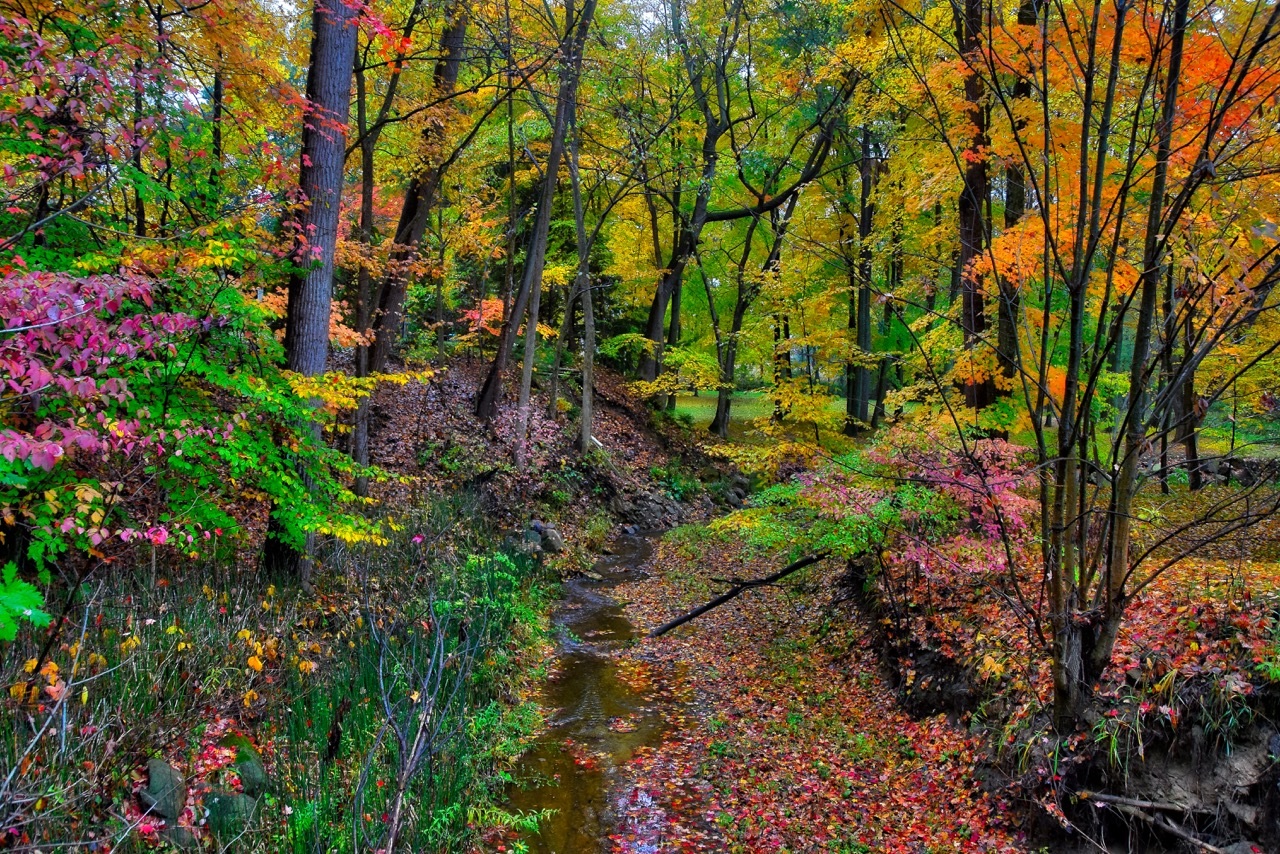 Gene Wintersole
There is a lot of summertime left to enjoy in Ohio's Amish Country, and even with an abbreviated calendar of festivals and special events, late summer and early fall is a spectacular time to take an adventure to Coshocton, Holmes, Stark, Tuscarawas and Wayne counties. Whether you and your family enjoy casual drives through spectacular rolling landscapes or like to immerse yourselves in history, the dazzling region that includes America's largest Amish community has plenty to keep you entertained.
Coshocton County
Coshocton County's stunning scenery is one of its most compelling attractions, said Mindy Brems, executive director of the Coshocton County Convention and Visitors Bureau. One compelling way to view it is by cruising the rolling hills via the paved, 105-mile Three Rivers Motorcycle Trail. The route, developed by a seasoned rider, takes riders to popular attractions like Historic Roscoe Village, the Helmick Covered Bridge, Gospel Hill Lighthouse, The Old Stone Fort and adventure trails like the Three Rivers Wine Trail and the Coshocton Antique and Unique Shopping Trail.
Coshocton County is big on trails, Brems said.
The Three Rivers Wine Trail includes eight of the 17 wineries that are located within a 45-minute drive of Coshocton County. The Coshocton Crow Geotrail provides an outdoor opportunity to use your GPS device to locate 13 geocaches around the county.
Shoppers can find one-of-a-kind gifts on the Antique and Unique Shopping Trail. The Heritage Quilt Barn Trail offers a chance to casually take in the county's history through the reproduction of old family quilt patterns and family stories, reproduced on barns.
"Coshocton is a hunter's Mecca," Brems said. "It is Ohio's number-one county for deer harvesting and number two for turkey harvesting."
The history of the Coshocton County region centers around Historic Roscoe Village, where guests can step back in time to the Ohio Erie Canal era of the 1830s. The restored port town is a stage for costumed interpreters and crafters portraying the life of those who lived and worked here. The village shops offer a variety of unique gifts and several Ohio handcrafted items. Beautiful gardens and restored Greek revival architecture attract visitors from all over Ohio.
A highlight of a Roscoe visit is a canal ride aboard Monticello III.

The free Clary Gardens in Coshocton make a gorgeous supplement to a Roscoe visit. The 20-acre botanical gardens feature 20 acres of rolling hills, woodland trails with sandstone outcroppings, a spring house, ponds, a gazebo, an outdoor amphitheater, a children's garden, bridges, and a growing collection of native and exotic plants.
Further out into the Coshocton County countryside, tourists may want to take a scenic cruise to the Helmick covered bridge, one of Ohio's oldest covered bridges. Located on Township Road 25 in Warsaw, the bridge was built in 1863 and was an integral part of commerce, providing access to two grist mills.
Holmes County
The streets of Downtown Berlin are filled with music on Friday and Saturday evenings throughout the summer, during Music on the Square. Because of its popularity, the event has been expanded from one night per week to two this year.
For the many visitors who journey to Amish Country to stock up on fresh fruit, vegetables and other local items, the Amish Country Farmers Market in Millersburg is open every Saturday through October.
"Shopping seems to be a top motivator to visit Holmes County as we approach the fall season," Gerber said. "Our shops are ideal for getting ready for the holidays and scouting out unique and locally crafted gifts."
She also suggested traveling off the main roads to explore some of the county's smaller towns, like Mount Hope, Charm and some other places that may not have been on your radar in the past. While in Mount Hope, you may want to attend the annual Ohio's Amish Country Quilt Festival, to be held Thursday through Saturday, Sept. 10-12 at the Mount Hope Event Center. The event features a vendor mall, quilt show, quilting classes, national speakers, trunk shows and hand quilting open sews.
A leisurely road trip through Holmes County's rolling landscape affords breathtaking views. National Geographic once named Holmes County one of the best places in the world to see fall foliage.
"You might also visit some of the little roadside markets along the way," Gerber said.
To learn about the Amish culture, Gerber said, the Amish & Mennonite Heritage Center in Millersburg is an interesting place to begin.
"It's not only the national archives and library for the Amish and Mennonite community, but it's also the home of the 265-foot 'Behalt' cyclorama," she said. "The cyclorama depicts the entire story of the Anabaptist movement from its roots in the reformation in Europe to their persecution and their migration into the United States and other parts of the world. You can learn about the daily life of Amish people and why they do what they do."
A mid-week visit to Holmes County may afford a slower-paced, less crowded experience than during the weekend, Gerber suggested.
"You also will find some special sales and hotel discounts by coming during the week," she said.
Stark County
Perhaps best known as the home of the Pro Football Hall of Fame, Stark County offers a large variety of other historical and entertaining attractions, including art museums, galleries and public art, as well as theaters, live music, concerts and festivals. The area is home to several nationally acclaimed and accredited museums, eight of which can be visited with one mobile ticket using Visit Canton's Museums and Attractions Pass.
The McKinley Presidential Library and Museum, which commemorates the 25th president of the U.S., is a family-friendly history and science museum that includes the McKinley Gallery, the Hoover-Price Planetarium and a new permanent exhibit, "The Stark County Story."
"On the McKinley Presidential Trail, you can walk in the footsteps of our nation's 25th president, William McKinley, from the Saxton House at the First Ladies' National Historic Site to his National Memorial and final resting place," said Tonja Marshall, vice president of marketing and communications for the Canton Stark County Convention & Visitors Bureau. "You can find inspiration along the Mother Angelica Tour and discover the story of Mother Angelica and her spiritual healer Rhoda Wise, both of whom are currently progressing through the steps of consideration for canonization."
The First Ladies National Historic Site preserves, promotes and educates the public about the significant role of first ladies of the United States and their contributions throughout history. The site features the ancestral home of Canton's own First Lady, Ida Saxton McKinley.
Marshall said some visitors to the county may opt for a self-driving tour from a variety of themed road trips.
"Whether you're looking for history, inspiration, relaxation or just fun photo ops, you can find suggested road trip itineraries on VisitCanton.com," she said. "You can learn more about the Hall of Fame city on a road trip that highlights professional football's roots in Canton and the surrounding region," she said.
Marshall said Stark County is full of historic points of interest, stately architecture and public art.
"You can enjoy open-air entertainment, shopping and dining in the Downtown Canton art district," she said. "Points of interest include The Eleven, a series of walkable installations that commemorate great moments in the first 100 years of the National Football League."
The league was founded in Downtown Canton on Sept. 17, 1920.
Tuscarawas County
Exemplified by Schoenbrunn Village and Historic Zoar Village, Tuscarawas County is rich in American and regional history. Founded in 1772 as a Moravian mission among the Delaware Indians, Schoenbrunn Village was the first Christian settlement in Ohio. The village, restored to appear as it did more than two centuries ago, includes the original cemetery and 16 reconstructed log structures, as well as the church and gardens. Zoar Village was founded in 1817 by a group of more than 200 German Separatists seeking escape from religious persecution in their homeland.
The sounds of American history — going back not quite as far — can be explored through Jan. 30, 2021, at "Swing: Music of the 40s," a special exhibit at the Dennison Railroad Depot Museum in Dennison. During World War II, 4,000 working volunteers at the Dennison Depot Salvation Army Servicemen's Canteen served 1.3 million service members who stopped at the depot as they were going off to fight in the war.
Along with their eyes and ears, many tourists enjoy Amish Country through their palates, said Teai Warner, communications manager for the Tuscarawas County Convention and Visitors Bureau. And they will probably want to include the county's farmers' market, which is open Wednesdays between 3 and 7 p.m., on their itineraries.
"It looks a little different than it has in years past because they're not going to have the food trucks or live music," Warner said. "It will be an old-time farmers' market with delicious, fresh local produce."
In the evening, she added, Tuscarawas County has plenty of other palate-pleasing options.
"There are more than 11 wineries and three breweries in the county," she said. "We also have a unique pizza trail featuring eight different local pizzerias. When you get your Pizza Passport validated at all of the participating pizza parlors, you can redeem it for a complimentary T-shirt."
A self-driving tour map, available from the Convention and Visitors Bureau, makes it easy to enjoy the sights of Tuscarawas County in a safe and leisurely manner. The tour begins at the county's Welcome Center and guides tourists to Zoar and onto Fort Laurens — Ohio's only Revolutionary War fort — then to the village of Sugarcreek, home of the world's largest cuckoo clock.
From Sugarcreek, participants are routed to Newcomerstown — home of baseball Hall of Famer Cy Young and legendary Ohio State coach Woody Hayes — and on to Gnadenhutten — the site of the tragic Christian Delaware massacre of 1782.
The tour concludes at the Dennison Railroad Depot Museum.
Wayne County
A little more than a century ago, with automobile travel still in its infancy, the new Lincoln Highway carried travelers through charming small towns across America — including those in Wayne County. Now mainly identified as U.S. 30, the historical route continues to be celebrated during the annual Lincoln Highway Buy-Way yard sales, to be held this year Thursday through Saturday, Aug. 13-15.
Along with numerous sales along the way, travelers also can take the opportunity to explore history via the trans-continental route. An exposed remnant of Lincoln Highway brick in Wooster, where Sylvan Road dead-ends at the west bank of Apple Creek, may be the old original portion of the Lincoln Highway.
History buffs can discover more about the region's past at the annual Smithville Community Historical Society Open House, Model-T Day, Native American Day and vintage base ball game on Sunday, Sept. 20 at the Smithville Historical Society & Mishler Mill. Vintage base ball is played by the polite and sportsmanlike rules of the 1800s, with authentic equipment and uniforms that reflect that period.
Families can explore Wayne County's confectionery side by taking the annual Cupcake Tour of seven businesses in Orrville and Kidron, receiving a treat at each stop. This year's tour will be held on Friday and Saturday, Sept. 25 and 26.
With active nightlife and upscale dining venues in towns like Wooster and Orrville, Wayne County offers the excitement of the city, right at the "gateway" into Amish Country, said Marty Starkey, executive director of the Wayne County Convention and Visitors Bureau. With its rolling hills, lush woods and scenic farmland, Wayne County also is an engaging venue for a relaxing ride through the country.
For more information about what awaits you in Ohio's Amish Country be sure to contact these helpful visitor centers:

Coshocton Visitors Bureau
Mindy Brems
740-622-4877
VisitCoshocton.com

Holmes County Chamber
of Commerce
Tiffany Gerber
330-674-3975
HolmesCountyChamber.com

Visit Canton
Tonja Marshall
330-454-1439
VisitCanton.com

Tuscarawas County Convention and Visitors Bureau
Dee Grossman
330-602-2420
TravelTusc.com

Wayne County Convention
and Visitors Bureau
Marty Starkey
330-264-1800
WCCVB.com