Amish woodworking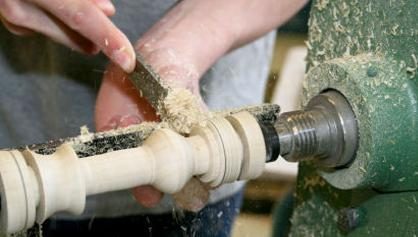 Randy L. McKee photo
Just a few decades ago, if you mentioned livelihood in the rolling hills of Amish Country, bathed in sunlight and pastures, and most anyone's thoughts would have turned immediately to farming.

Farming has been the absolute staple of Amish Country in Ohio for quite some time, so it would seem appropriate to think farming when it comes to the market which drives the area's economy.

However, times have changed over the years, and farming has fallen on tougher times, especially over the past two decades.
Farming was and still is a tough, demanding job. It is long hours, with sometimes questionable yields for farmers who are far too often at the mercy of the weather. Droughts and downpours can wreak havoc on a farmer's crops.

As Amish and Mennonite farmers began to realize that it was becoming harder to earn a living farming, the attention of the community turned toward finding more profitable solutions.

Rather than turning soil for a living, many Amish farmers instead turned toward a new career... in wood.
Over a relatively short time period, Amish handcrafted furniture became synonymous with Holmes County.

Furniture business became a booming industry in the heartland of Ohio's Amish Country. All over the countryside, the wood-making industry was driven by Amish families who had formerly called farming their livelihood.

A huge benefit of the industry is that farmers who opted to turn to woodworking as a way of making a living could remain on the farm, building businesses and incorporating their offspring into the family business.

The beauty and elegance of those products would become known as second to none.

Today in Amish Country, the furniture industry has moved right to the forefront in terms of importance to the economic growth of the county. Wood is now the king of the crop in Amish Country, and finding quality pieces is not a difficult chore.

What proves to be the toughest is choosing between the numerous quality stores offering handmade, handcrafted Amish items. From north to south, east to west, there is no shortage of divine, quality furniture and collectibles.