Tradition is the "Cornerstone" of Broad Run Corner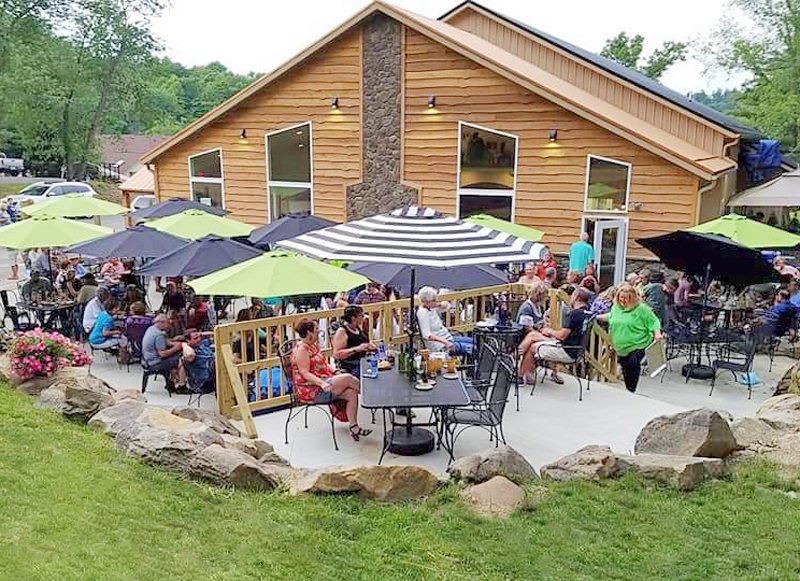 Submitted
A second deck is currently being built to accommodate an increasing number of visitors brought by word-of-mouth.
The second anniversary of the founder's namesake tavern, Hans' Place, and the launch of the new flagship wine, Cornerstone, is on the horizon at Broad Run Corner.
June, 2019 will perhaps be remembered best with a toast and a view from the decks as Swiss Heritage Winery launched its newest vintage and Hans' Place was recognized with an all-day celebration that included live music from Tequila Mary, Rolando, and Ed's Acoustic Thingy and anything else visitors choose to make of it.
Cornerstone's label marks the changes at Old Route 39 and Broad Run Dairy Road. Broad Run Corner Cheesehouse is depicted in stark relief as it stood in 1933 before joined by both Hans' Place and the Swiss Heritage Winery last year, and even before founder Hans Schindler laid the cornerstone at the intersection in 1977.
For his descendants, it's a fitting re-minder that the shape of Broad Run Corner today is traced in the past. The label of the new flagship wine heralds a future trajectory anchored in tradition.

The founder's son, Chad Schindler, president of Broad Run Corner, said the message on the bottle doesn't matter as much as what the wine in the bottle conveys. "Cornerstone is our signature dry red blend," he said. "It's a blend of three grapes, aged for two years in French oak. It's full-bodied, rounded off with nice tannins."
But you don't have to know that tannins are infused naturally from the parts of the grape and the wood of the barrel and impart a sense of structure to get the message.
A second deck is currently being built at Broad Run Corner to accommodate an increasing number of visitors brought by word-of-mouth.
"We're a winery, we're a restaurant, we serve beer and soft drinks, everybody can find something on the menu, and we have an atmosphere — inside and out," Schindler said.
The terrace is sure to become a favorite spot for casual selfies and formal photos.

"It will be a natural amphitheater," Schindler said. "There are hills and woods all around you, and instead of looking out, you're looking up into the woods and waterfall. It will be the perfect backdrop for pictures."
The second deck will seat 40-50 people comfortably and can be rented out for events.

Broad Run Corner also is celebrating its first anniversary with wine and song and the debut of an all-day brunch menu.
"Everyone's favorites are still there — Reubens and the fried cheese sticks — and we're adding brunch to the menu that includes things you can't find anywhere else, like fried green tomatoes and a Hawaiian breakfast sandwich," said Schindler's wife, Jody Schindler, manager of Hans' Place.

As Jody Schindler put it, "While Broad Run Cheesehouse is our cornerstone, the winery and restaurant mean there's more opportunity than ever to explore, savor and unwind."
Make a day of Broad Run Cheesehouse, 6011 Old Route 39 NW, Dover (330-343-4108). Hours are Monday through Saturday from 9 a.m. to 6 p.m. Hans' Place and Swiss Heritage Winery hours are Monday through Thursday from 10 a.m. to 8 p.m. and Friday through Saturday from 10 a.m. to 10 p.m. Sample BroadRunCheese.com.