Mudlarked in Historic Roscoe Village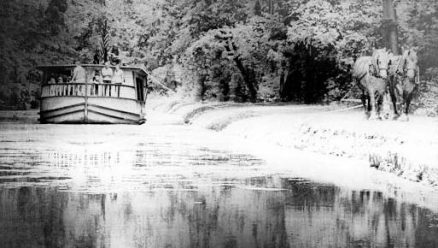 Imagine that it's a pleasant spring day in the 1830s. But your Ohio Canal journey from Portsmouth, on the Ohio River, to Cleveland, on Lake Erie, has been interrupted by damage to your canal boat.

You are mudlarked in Roscoe Village.

So how will you pass the time until your boat is repaired? Fortunately, said Debbie McDonald, marketing manger for Historic Roscoe Village, there are plenty of activities to keep you and your family occupied—even on Sundays, when many businesses in Amish Country are closed.

"Because all of our attractions and activities are open on Sundays, Roscoe Village is a natural extension of your visit to Amish Country," she said. "Our living history experience is in full gear no matter what day you come. Why not visit this beautiful region and make it a weekend?"

Historic Roscoe Village is a restored canal town that depicts life as it was during the early years of the Ohio Canal. A visit to Roscoe Village offers a combination of hands-on education, delicious food, old fashioned crafts, quaint shops and most of all, a day of family fun.

"Our costumed interpreters and artisan demonstrators provide a unique flavor of life as it was in the 1800s," McDonald explained.

Always finding new ways to share the old days, Roscoe Village this year has introduced several new experiences in the living history buildings.

Among them are new features at the village Toll House. Previously, McDonald said, the Toll House was open only as part of a guided tour. Starting this year, a new gift shop and ticket sales will be open year-round in the Toll House. The gift shop features historical books and maps along with authentic handcrafted products made by village artisans, like blacksmiths, weavers and broom makers. An educational video also is featured in the Toll House and kids will enjoy the Toy Cellar, a vintage toy exhibit.

Other popular features include a newly restored working lock model and a new model aqueduct in the visitor center. An aqueduct, explained historian Chris Hart, was a wooden "bridge" that carried canal boats over rivers.

"If the canal was cut right through the river, the river's current would carry the boats out of the canal," Hart said. "The canal had a total of 19 aqueducts."

Historic tours through Roscoe Village transport guests back to a time when the pace of life was more casual.

"Roscoe Village offers many activities to keep you busy, yet it is a very relaxing place," McDonald said "You can enjoy a leisurely stroll through the village or sit and have an ice cream cone before getting back to the shops and historical buildings."

Places of interest include the Village Smithy, where a blacksmith demonstrates the ironworking techniques of the canal era, and the home and office of Dr. Maro Johnson, which features antiques from the 1800s, including 19th century medical instruments. Children may want to experience what a school lesson was like in Roscoe's charming one-room schoolhouse. You also may want to climb about the Caldersburg Pearl canal boat replica.

And of course you won't want to miss a 45-minute ride aboard the Monticello III canal boat, which is pulled through the water by a team of horses led down the towpath by a hoggee.

"Hands-on activities are an important part of the Roscoe Village experience," McDonald said. "You can do leather and tin punching. We also have candle dipping and a lot of other interactive activities that are enjoyed by children and adults alike."

The Johnson Humrickhouse Museum, located in the village, features a Native American collection, a collection of Americana, and other special exhibits.

Don't forget to stop into the visitor center, where you can view detailed dioramas, maps and models of the canal and lock system while learning the story of Edward and Frances Montgomery, whose restoration dream has come to life at Roscoe Village.

"Roscoe Village is a wonderful family destination," McDonald said. "You see so many people whose parents brought them here when they were kids, and now they are bringing their children. The Montgomery Family's dream was to keep historical education alive. Our mission is to do that while making it a lot of fun for everybody. Being mudlarked in Roscoe actually is a good thing."

You can learn more about Historic Roscoe Village, including ticket prices and special events, by visiting www.RoscoeVillage.com or by calling 740-622-7644. Village headquarters is located at 600 N. Whitewoman Street, in Coshocton.