Walnut Creek Amish Flea Market is full of exclusive vendors and great finds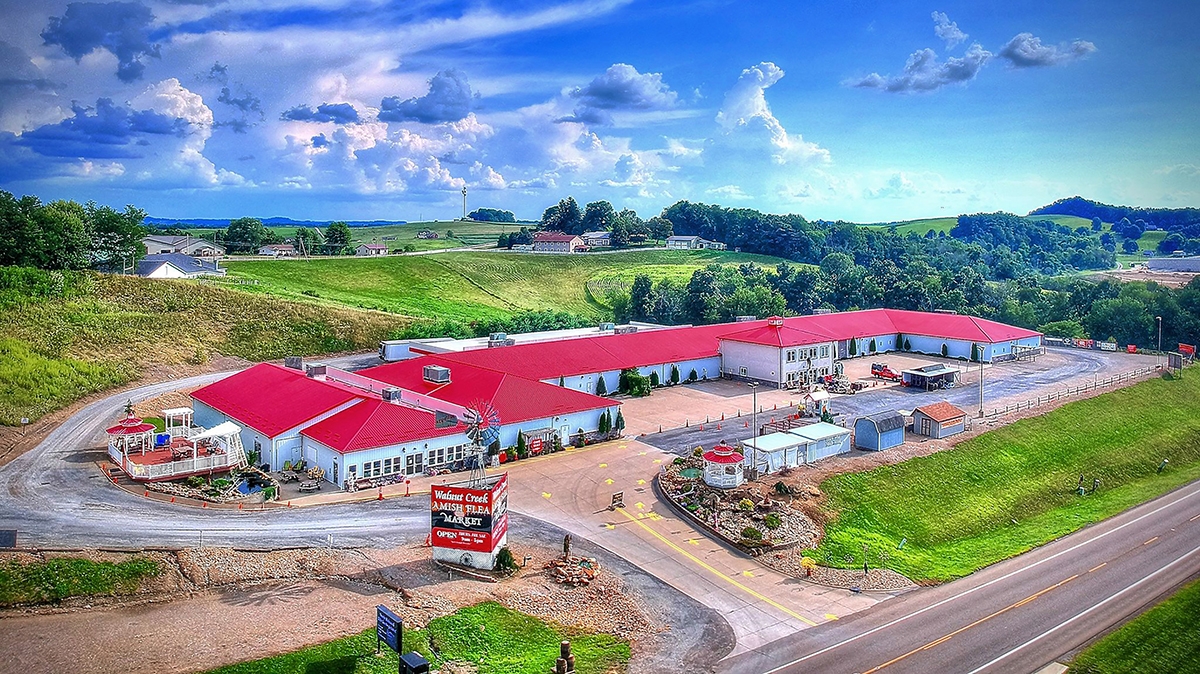 The adage, "If you build it, they will come," is not the sole domain of baseball enthusiasts.
"The owners of Walnut Creek Amish Flea Market bought this land before they knew what they would do with it," said Ashley Spears, manager of the market. "But after the original two-story flea market on the hill retired, the vendors approached them and said, 'You've got the property. If you build a flea market, we will come.'"
And come they did — and still do. On average, more than 2,000 cars packed with enthusiastic shoppers pull into the market's parking lot each weekend to visit approximately 60 vendors who peddle an ever-changing inventory of unique goods and services. That popularity has spurred two expansions in 11 years, making the now 55,000-square-foot, climate-controlled, indoor market a seasonal destination for locals and tourists alike.
Merchants offer everything from handcrafted Amish furniture and quilts to refurbished antique drill bits and gas cans, clothing, and jewelry. Jerky, German-roasted nuts and kettle-roasted potato chips also are part of the mix. Breakfast and lunch prepared by an Amish couple are available in the cafeteria and another Amish cook does the baking. The market's licensed reflexologist and massage therapist offer soothing services.
"We pride ourselves on the fact we have item exclusiveness," Spears said. "If I have a vendor who has something, I'm not going to bring in another who does the same thing."
The market's playground, shaded picnic tables, live entertainment and handicap accessibility make the market a welcoming destination for the entire family. Check the website for the current entertainment schedule, which has, in the past, included an Elvis impersonator, performances by local singer Randy Velez, chainsaw carvers and seasonal attractions such as an appearance by the Easter Bunny. Wheelchairs and walkers are available for use at no charge, and two shuttles transport visitors to and from the parking lot. Additionally, staff members are happy to help folks load larger items purchased at the flea market into their vehicles.
Perhaps one of the most endearing aspects of the market is its pet-friendly atmosphere, which embraces merchants' and visitors' dogs and other fur babies.
"We've also had monkeys, chickens and a man walking his iguana," Spears said. "We love it. Most vendors have treats hidden behind their desks."
Walnut Creek Amish Flea Market even caters to husbands, boyfriends, fathers and sons who may be less than enthusiastic about spending the day shopping. A trip to the man cave outfitted with flat screen TVs broadcasting sports programs quickly changes their perspective.
Golden Tickets

Regulars have enjoyed the market's monthly events and/or giveaways for years. In addition to those, the market is offering something new this season: Shoppers will receive one golden ticket for every $500 in 2019 receipts.The tickets will be entered into a drawing for $5,000 that will occur on Saturday, Dec. 14, the last day of the season.

Walnut Creek Amish Flea Market is located at 1900 state Route 39 in Sugarcreek. Hours are 9 a.m. to 5 p.m., Thursday through Saturday, until the season ends on Saturday, Dec. 14. The phone number is 330-852-0181, and the website is WalnutCreekAmishFleaMarket.com.