Walnut Creek Amish Flea Market has new addition on the way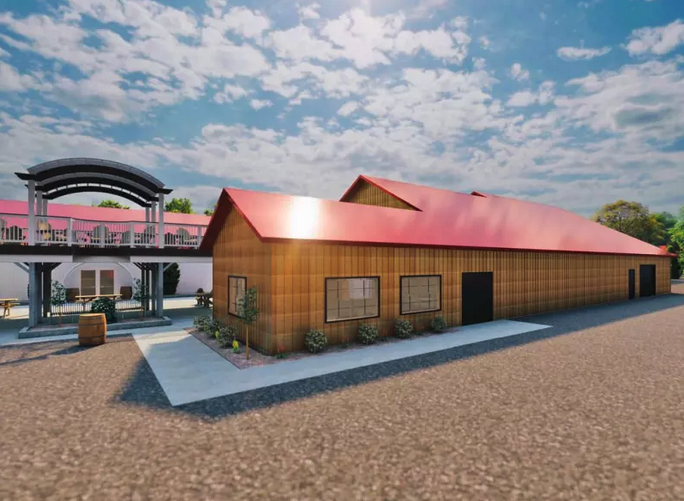 Artist's rendering
The Walnut Creek Amish Flea Market has blossomed into a must-visit when coming to Amish Country.
It's only getting better, with the addition of a new winery and brewery coming in spring 2024.
"It's something we've wanted to do for some time now, but in past years the right opportunity never arose," said Januery Tango, co-owner. "It's something that we believe will be new and exciting for our area. We are always trying to discover new ways to provide something new for visitors, and this was one opportunity we felt was fantastic."
Tango said people love coming to this area because they want to shop and relax, and with the addition of a new winery, Walnut Creek Amish Flea Market will provide a place where people can enjoy both of those aspects of visiting.
With the winery business becoming more popular in Amish Country, Tango knew it was time to move if they wanted to invest in wining and dining a local winery company to their market between Walnut Creek and Sugarcreek.
That partner turned out to be another local company, Winetagous, which is currently located on the east side of Sugarcreek. The new location at the flea market is a tremendous gain in foot traffic for winery and Tammy Fanning, who co-owns the winery with her husband Mick and friends Steve and Heide Hamit.
"A lot of excitement and a little anxiety," Tammy Fanning said. "You never know where your journey will take you, and this is a journey. This business started as a hobby for us and turned into something unique."
Tango visited Winetagous in February, and the wheels started to turn. It didn't take long for the Winetagous team to discuss the option, and they agreed to a partnership.
The two parties got together and hashed out the details, and the market will now build a new winery facility that will allow Winetagous to manufacture its own wine and craft beer onsite.
"It's going to be a beautiful addition to our market," Tango said.
The new building will be 5,500 square feet and will be located in front of the market, abutting the west side of the main sightseeing deck. The building will be separate from the market, but Tango said one feature is visitors can have their beverages in Winetagous or they can make a purchase, sit outside on the observation deck or in the gazebo and enjoy the view. In addition, the restaurant will be able to serve food, so people can get the whole wining and dining experience. Winetagous also will sell products by the bottle for those looking for gifts or to take home. Winetagous will be open during market hours.
Tango said the hope is to have live musical performances every Saturday once they get rolling, and once a month it may stay open until later for people to have a relaxing evening experience.
Since its resurrection from a fire that destroyed the complex in August 2019, Walnut Creek Amish Flea Market has become a destination spot for tourists, but many locals also have made the shopping experience there a must, with vendors carrying an array of items.
The rebuilding process allowed the market ownership team to reimagine what they wanted the facility to entail, and they added new shopping areas, bringing in even more vendors. In addition, Tango said the staff members at the market have been a blessing because of their commitment to furthering the shopping experience.
However, one thing about the market is it carries so many quality items that the term "flea market" doesn't exactly define what it has become.
"We have great, loyal and professional vendors, and we work hard to bring in new and exciting vendors whenever we have an opening," Tango said.
In anticipation of the winery's arrival and to better define what the market entails, Tango said they are rebranding the name.
"As of next year, we will be The Walnut Creek Marketplace & Winetagous," Tango said. "I think while we do have some flea market items, our market is so much more. Our goal is to create a memorable experience for everyone who takes the time to visit us."
Winetagous will move in during the winter offseason, and come spring it will open its doors to a new world that will only make the market experience that much more enjoyable.
The Walnut Creek Amish Flea Market continues to add to the drawing power of Holmes County, with hundreds of thousands of people flocking to the market each year.
Tiffany Gerber, executive director of Holmes County Chamber of Commerce and Tourism Bureau, said these types of ventures and the addition of the winery will only make the market a more attractive landing spot for visitors and locals alike.
"It's a wonderful place, and it has become one of the biggest draws in our area," Gerber said. "Bringing in a new winery will only enhance the market's ability to create a wonderful shopping experience in which people can shop and have an opportunity to relax and enjoy the experience. We are very excited about this new collaboration."