The rustic elegance of Columbia Woodlands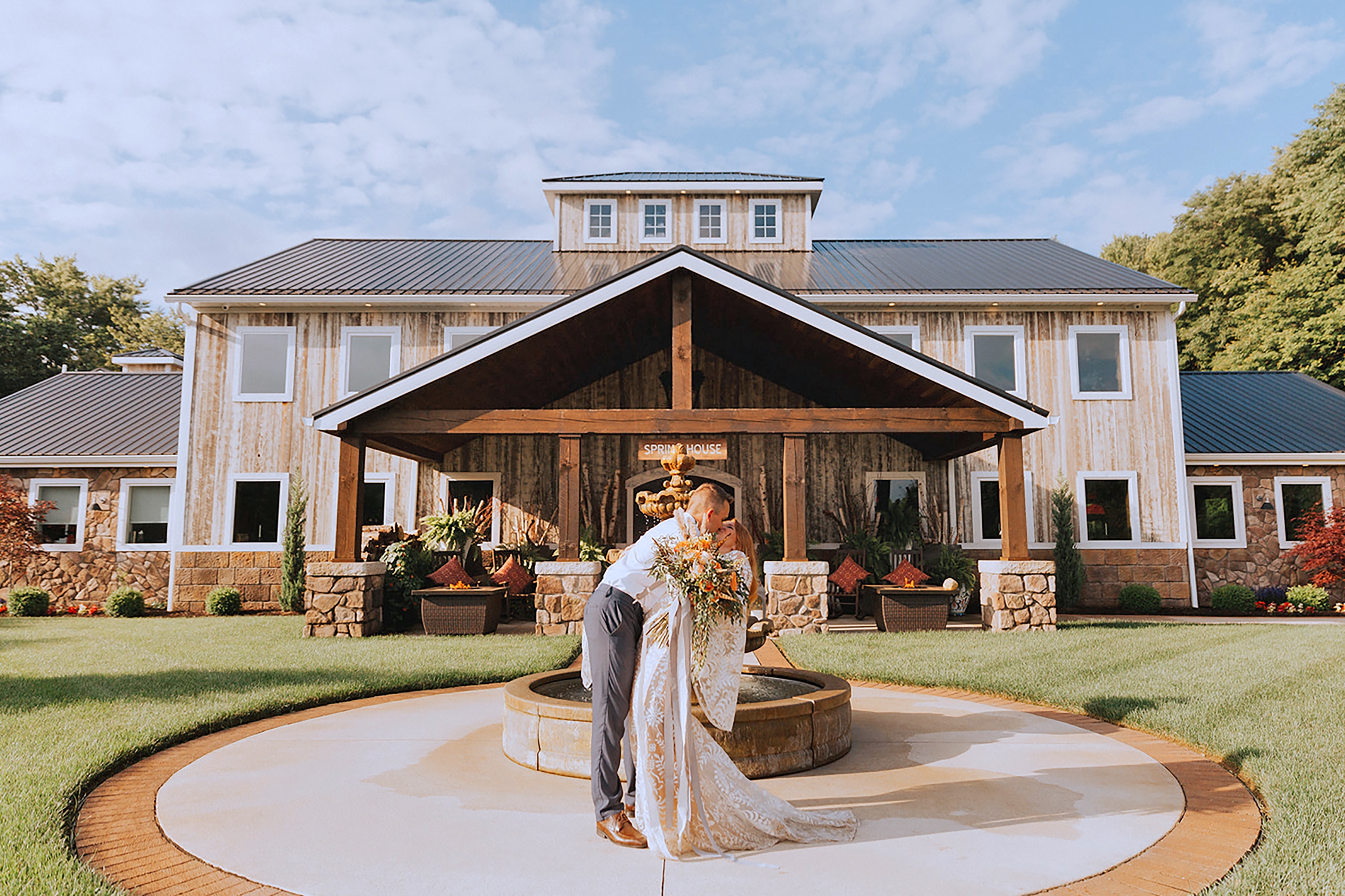 Submitted
The bride and the groom always have a few tough decisions to make, but Columbia Woodlands truly caters to its couples.
Columbia Woodlands is a place that could have sprung from a bride-to-be's secret Pinterest wedding board. The wedding venue and resort on 400 acres of Instagram-worthy woodlands in Dover is a destination wedding within reach — both rustic and elegant, perfect for big weddings and intimate weddings, black tuxes and blue jeans.
A Woodlands wedding is exclusively the bride's.
Four luxury cabins and four glamping tents, as well as three chalets and an abundance of other amenities — fishing poles and paddleboards, kayaks and canoes, and on and on — are reserved exclusively for the bride, the groom and their guests.
A Woodlands wedding also is all-inclusive.
"When arriving on Friday, everything is in place. The only thing left to do is place the centerpieces," Columbia Woodlands owner Lois Mason said. "The hardest decision the couple has to make is which cabin or glamping tent to place their family and loved ones during their stay."
The bride and the groom always have a few tough decisions to make, but Columbia Woodlands truly caters to its couples, and will do everything they can to help couples make it a day they will cherish for a lifetime.
"What sets us apart is our focus on the details," Mason said. "Guests arrive to a welcoming prelit fire, a personal letter from my husband and I, the concierge's phone number, fresh meats and cheeses, freshly baked pastries, a bottle of wine and a few extra little surprises that are all complimentary and our way of saying congratulations to the newlyweds and their guests. We provide items that guests may not have remembered to bring such as organic bug spray, sunscreen, flashlights, books and board games, and so much more."
The bride, groom and their 36 guests will have two memorable nights. At Columbia Woodlands, each of the four luxury cab-ins and glamping tents comes with a distinct mixture of magic.
Most couples opt to stay in Rising Sun, since it's the original cabin and the perfect size for newlyweds. A loft overlooks a cozy living room with an old-fashioned wood-burning stove, and it's the only cabin where the master bedroom opens directly onto the hot tub.
Rock Path is a five-bedroom cabin with a six-person hot tub, foosball table and poker table. There are views of the mature forest at Lakeside, and there's a 10-foot-wide wrap-around porch at Dreamcatcher.
Other couples want to get off the beaten path.
"Whippoorwill Glamping tent is a favorite among many of our couples due to its more secluded location," Mason said.
Glamping is camping at its finest. "Our heated and air-conditioned glamping tents feature crystal chandeliers, marble and slate showers with privacy glass and ceilings to allow the natural light to shine through," Mason said.
It's also where most of the more adventurous bride-to-be's take boudoir shots. The day of the wedding, the Spring House has room for 150-175 guests. Golf carts give guests free range to discover Columbia Woodlands for themselves.
"Our luxurious bridal suite behind the Spring House overlooks an expansive back patio that is complete with an outdoor bar, a cocktail area, restrooms, very comfortable outdoor seating and a firepit," Mason said. "Brides descend the picturesque and winding staircase leading to the grand ceremony site and her awaiting groom. Once the ceremony concludes, the grand hall welcomes guests to dine, dance and celebrate the evening away. It is truly magical."
Columbia Woodlands' all-inclusive weddings are an expression of style that's exclusive to the bride. No detail is overlooked in the perfection of nature, untouched in its pur-est form. Whether the wedding is formal or informal, large or intimate, the enchantment of a Woodlands wedding lasts a lifetime.
"The resident wildlife and natural, ever-changing setting of Columbia Woodlands makes each event truly one of a kind," Mason said.
The magic of Columbia Woodlands is that it's a place where couples can get married, celebrate their first anniversary, and come back again and say, "This is where our love story began."

Experience Columbia Woodlands' rustic elegance at 6593 McKracken Drive NW in Dover, OH. Call 844-681-7500, visit ColumbiaWoodlands.com. Don't let the date pass you by. An all-inclusive, all-eyes-on-you exclusive wedding is at your fingertips. Get in touch with your personal wedding coordinator by calling 844-681-7500 or emailing info@columbiawoodlands.com.