The Rest of Your Story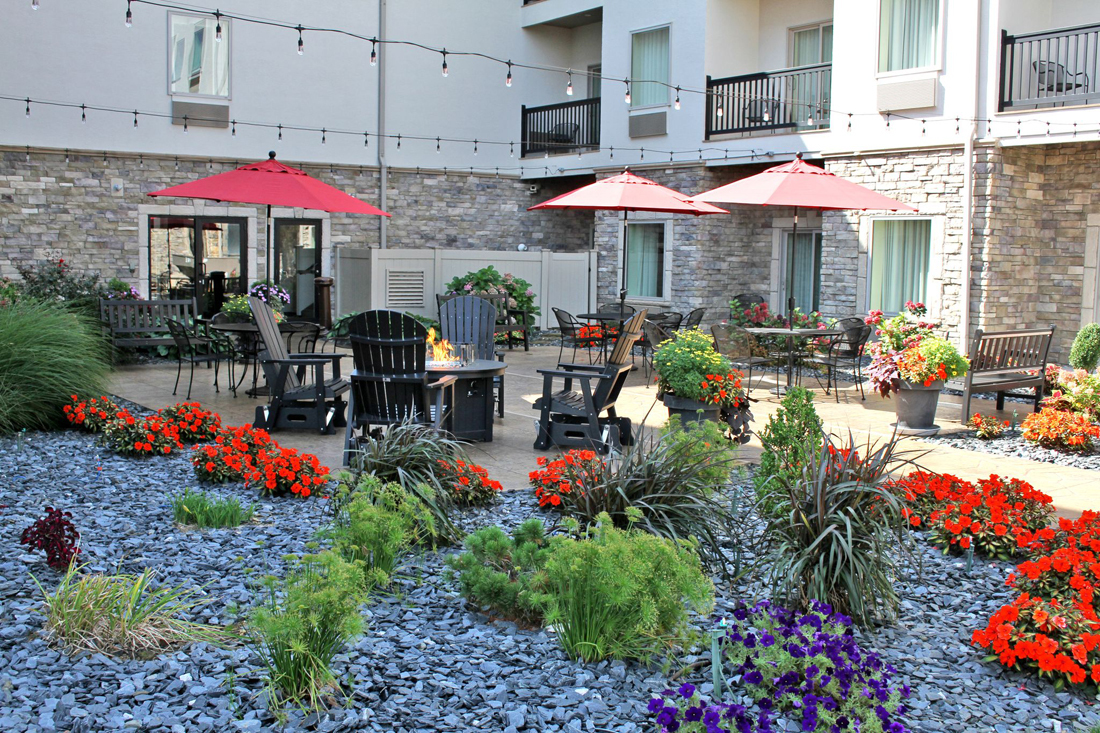 Randy L McKee
The warm and inviting couryard is just one of many features which make Berlin Grande Hotel a destination unto itself.
When searching for a place to stay in Amish Country with easy access to area shopping, dining, and sightseeing, look no further than the Berlin Grande Hotel.
The centrally-located, contemporary boutique hotel is a three-block walk from downtown, making it a convenient location for sightseers and business travelers; its spacious accommodations make it a fit for families and tour groups.
The true measure, however, of this one-of-kind four-story 102-room hotel is not in its distance to all the activities downtown Berlin has to offer, but in the experience, according to Doug Burgess, General Manager of the Berlin Grande Hotel.
"Hands down, the people at the Berlin Grande make the Berlin Grande," Burgess said. "Everyone here at the hotel, from the staff to the owners, is committed to providing the best possible experience for every guest we have the opportunity to welcome. Every employee here dedicates themselves to customer satisfaction, and it shows."
Local owners Rod and Becky Starr believe in investing in their employees, and that there's no substitute for the human touch.
"When you call the Berlin Grande, the first thing you hear is the voice of a real person, not a prerecorded greeting or a person in a call center hundreds of miles away," said Burgess.
Burgess continued, "Most of our staff are residents of Berlin or a neighboring town and can give great recommendations on things to see and do in the area. We have also updated our website to include a comprehensive listing of area shopping, dining, and attractions as a fantastic resource for anyone traveling to the area."
"Another personal touch you won't find everywhere is the hot breakfast buffet served every morning between 6:30 and 10 a.m," Burgess said. "The food the incredible kitchen staff prepares every morning is wonderful, ranging from biscuits and gravy to omelets to freshly- baked cinnamon rolls. There is a large selection to suit everyone's tastes. In addition to our hot buffet items, guests can choose from fresh fruit, yogurt, and various hot and cold cereals. We also have gluten-free options available for guests with dietary concerns."
The Berlin Grande is big on amenities too.
"Guests can enjoy a dip in the indoor saltwater pool or, after a long day of shopping, ease aching muscles in the hot tub, located just off the lobby and open each day from 7 a.m. to 11 p.m.," Burgess said. "There is also a fitness room conveniently located on the first floor for guests looking to keep up with their health goals while away from home."
The Berlin Grande is a place to rest easy. "We have a variety of thoughtfully-designed guest rooms to meet a variety of needs," Burgess said. "From couples looking for a romantic getaway, families with children or those needing handicap-accessible rooms, the Berlin Grande has options to accommodate every need at various price points."
"Guests tell us that our mattresses, which are handmade locally, have given them some of the best sleep they've ever had," Burgess said. "Guests will also find complimentary BeeKind bath amenities in their room upon arrival. A fan favorite, made with natural organic ingredients, guests can purchase full-sized products in the Mini Grande Shop, conveniently located next to the front desk."
The Berlin Grande also houses a fully equipped business center and two conference spaces for small and large groups alike. The Grande Room holds up to 69 guests, and for larger groups, the Star Room can accommodate up to 150. The Star Room also features a private entrance, private restrooms, and an adjacent prep kitchen.
Outside, guests can enjoy the open truss timber frame pavilion perched above a fire-lit courtyard overlooking the countryside.
For Burgess, it's the little things that the hotel's people do that truly make the Berlin Grande.
"It's not one thing that sets us apart from all the other great hotels in the area," he said. "The wide array of little touches collectively creates a one-of-a-kind experience for our guests. Every little touch makes for a grand visit." 
To book your stay at the Berlin Grande Hotel, 4787 Township Road 366, in Berlin, call 877-485-2448 or visit BerlinGrandeHotel.com.