The making of a fry pie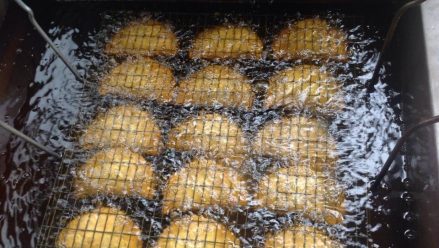 Fry Pies are as common as Horse and Buggies, especially in Ohio Amish Country, Holmes County. What is the difference between a good ole' fashioned slice of pie and a fry pie? For one, you don't need to eat it with a fork. Two; the Fry Pie is wrapped in a delicious thin crust with your favorite filling; and three, they are cheaper than a slice of pie. Fry Pies can be found in nearly every bakery or perhaps along the back roads at a family roadside stand. This half moon shaped dessert or snack has gained popularity but has been around for decades.
Recently my tourism friend, Loretta Coblenz from The Barn Inn Bed and Breakfast and I ventured out to find more hidden secrets about the tasty treat. We drove to the village of Farmerstown, Ohio on State Route 557 and stopped at a business I felt could steer us in the right direction. We wanted to find the dough press which Amish use for pressing the dough together once the filling is added. It was actually the business across the street where we met Emmanuel Raber. He was walking toward the road to mail a letter when I asked if he was the creator of the Fry Pie press. With a small nod of his head, he welcomed us into his shop. We identified ourselves as to how we are connected to the local community. It always helps to talk a little "Dutch" or let them know who you both may know in common. For me, I reminded him of the few times I drove their family on vacation with my 25 passenger bus a few years back. With another nod of his head and a smile, I knew that was good. Loretta shared her connection by speaking "Dutch" and then connecting her distant relatives into her introduction. By then, he was eager to assist us with our inquiry. Emanuel does not have a store, however, he is eager to sell the dough press he designed with the mold. The business across the street, Clark Castings, manufacture them.
This is manufactured with stainless steel as shown in the top middle section. The base and sides are polished aluminum and will not rust.
Last fall, I had the opportunity to observe thousands of fry pies being made by local residents raising money for medical bills. These benefit frolics are not open to the public, but visitors can spot a frolic with all the buggies parked in a nearby field. The unique thing about this day was the fry pies were being made in a large barn. No fancy kitchen or electric was needed. The volunteers knew their position in the make shift kitchen. By the end of the day, they made over 4,000 pies ready to sell to the neighborhood.


Fry Pie Recipe
This recipe makes approximately 40 fry pies. Mix together the following:
9 cups cake flour ~ 1 teaspoon salt ~ 3 cups *creametex shortening ~ 2 Tablespoon sugar
Beat two eggs well till frothy. Put the egg mixture in a 2 cup measuring cup. Then fill the rest of the measuring cup with 2 cups cold water till the frothy egg foam reaches the top. Scoop off the egg foam. (The Amish lady said this step was very important)
Mix the dough into one large ball. For each fry pie, scoop out 1/4 cup of dough and roll into a thin crust.
Lay the dough across both stainless steel forms. Using an ice cream scoop, add your favorite filling. (about 1/4 cup)
Once the filling is added, dab or brush a slight amount of milk around the edges of the dough to help it stick together.
Manually turn the handle one full turn in order for the dough to be crimped and sealed.
Trim off any excess dough.
The fry pies are then ready to drop into a hot oil of 350 - 375 degrees until crust is slightly browned.
Once you bring the pies out of the oil, be ready to dip the glazed icing over them. Do not wait till they cool.


Glazed Icing
8 lb. powdered sugar ~ 1/2 cup cornstarch ~ 1/2 cup carnation evaporated milk ~ 3/4 cup *honey glaze (usually in large quantity containers) ~ 2 1/2 cups water ~ 4 Tablespoons *stabilizer
*The recipe items can be ordered and purchased from Walnut Creek Cheese in Walnut Creek, Ohio; www.walnutcreekcheese.com 2641 OH-39, Walnut Creek, OH 44687 330-852-2888
To order the Fry Pie crimper ~ Write to: Emmanuel Raber, Raber Pattern Works, 2966 Township Road 163, Baltic, Ohio 43804. They sell for around $450.00 plus tax and shipping.
When visiting the Farmerstown, Ohio area, visit the quaint variety store called Farmerstown Shoe and Gift Shop for a large selection of household items. It is Amish owned. 2730 State Route 557, Baltic, Ohio, 43804; 330-897-1152
The Fry Pie crimper can also be used for breakfast hot pockets, pizza pockets and many other recipes.