The Artistry of Quilts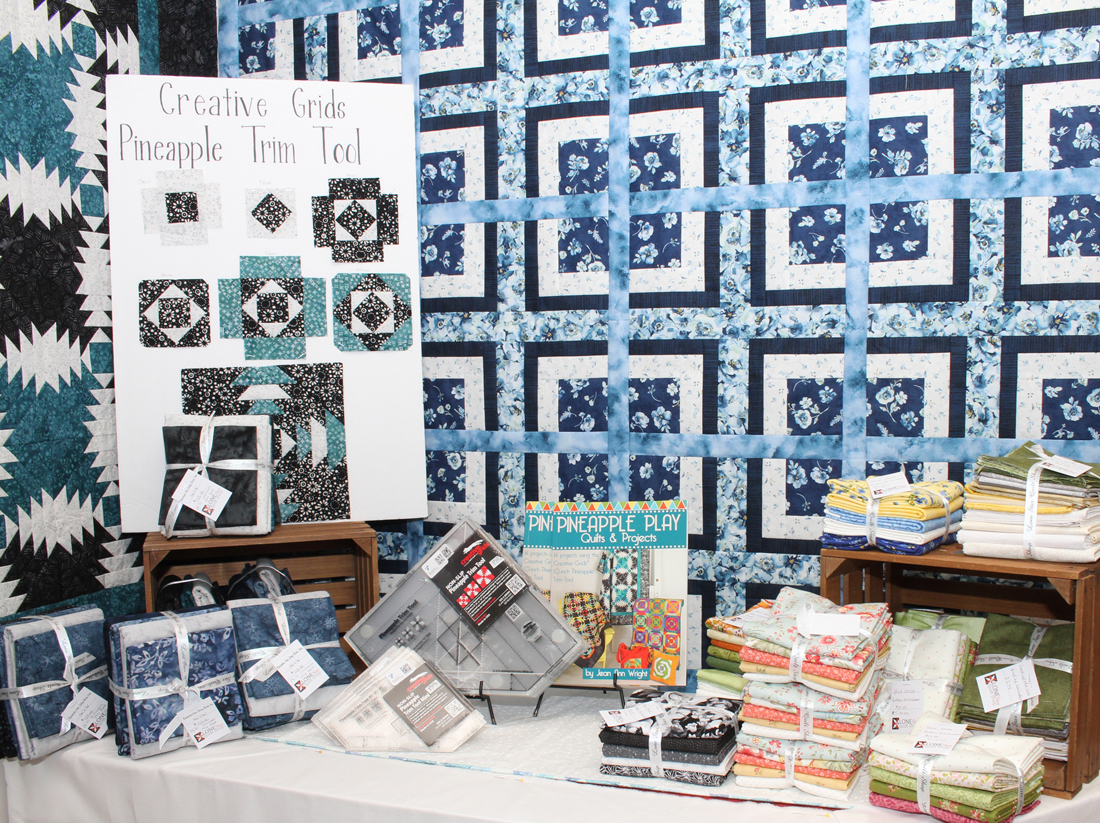 Randy L. McKee
Whether you're new to Amish Country, a frequent visitor or a local, you can't miss Lone Star Quilt Shop in Mt. Hope. One reason might be the 15-foot sewing needle sticking out of the top of the building, which beckons visitors to stop in for a visit.
More than 41 years ago, Sara Yoder started her quilt shop on her family's front porch. From there she moved to an addition on the back of her husband's shoe and harness shop and has kept the expanding business in the same spot.
"Mom had one-third of the building, and Dad had the rest back then," Yoder's daughter, Ada Miller, said. "After growing up learning from my mom and helping in the shop, I bought the business six years ago and we've since expanded even further."
Lone Star Quilts now offers start-to-finish Juki sewing machines, sergers, long-arm quilting machines and treadle machines along with finished quilts, quilting kits, patterns, rulers, notions and wall hangers.
"We have over 4,000 bolts of fabric and 200 panels in the shop, along with table runners, potholders and locally made wood sewing cabinets," Miller said. "And Mom still helps at the store and enjoys talking with the customers, answering their questions and sharing her knowledge and passion for quilting. Her quilts are famous, not only in Ohio, but all around the country. She made quilts for the Land's End catalog and for the Ohio governor's mansion under the Celeste administration. That was quite an honor for her."
The artistry of quilting is a skill and a passion passed down and appreciated through generations in the Amish community and in many families everywhere.
"All of our quilts here are hand quilted by local women," Miller said. "One woman now in her 80s has been marking the quilts for us since my mom started the shop on that front porch. She brings the marked quilts back to us, several local women sew the binding and then my mother-in-law hand-finishes the edges. It really is a local and family affair."
Ada Miller started teaching her own daughter to sew when she was 5 years old and is proud of her progress.
"She's 10 now and loves it," Miller said. "I'm teaching her like my mother taught me as a young girl. It's nice to be able to create something beautiful that will last for generations to come."
Lone Star Quilt Shop is always bustling with visitors and locals alike, shopping for finished quilts or all the supplies needed to create their own. The shop also makes custom order quilts to fit your own personal decor and hopefully become a part of your family's history.
Fall is also a great time to visit. Be sure to put the week of Oct. 31 through Nov. 5 on your calendar for the Ohio Amish Country Quilt Shophop, when nine area quilt shops join together to set you off on a quilting journey you won't soon forget. You'll start by picking up your passport and then receive a stamp at each stop along the way. Every participating quilt shop will display a different quilt that corresponds with the theme for the week.
"We have more than 1,000 visitors, and everyone receives a free pattern," Miller said. "These events allow us to share our family's quilting tradition with other families." 
Lone Star Quilt Shop is located at 7700 County Road 77 in Mt. Hope with a Millersburg GPS designation. Hours are Monday through Friday from 8 a.m. to 5 p.m. and Saturday from 8 a.m. to 4 p.m. The phone number is 330-674-3858, and you'll find Lone Star Quilt Shop on Facebook.