No place like Holmes County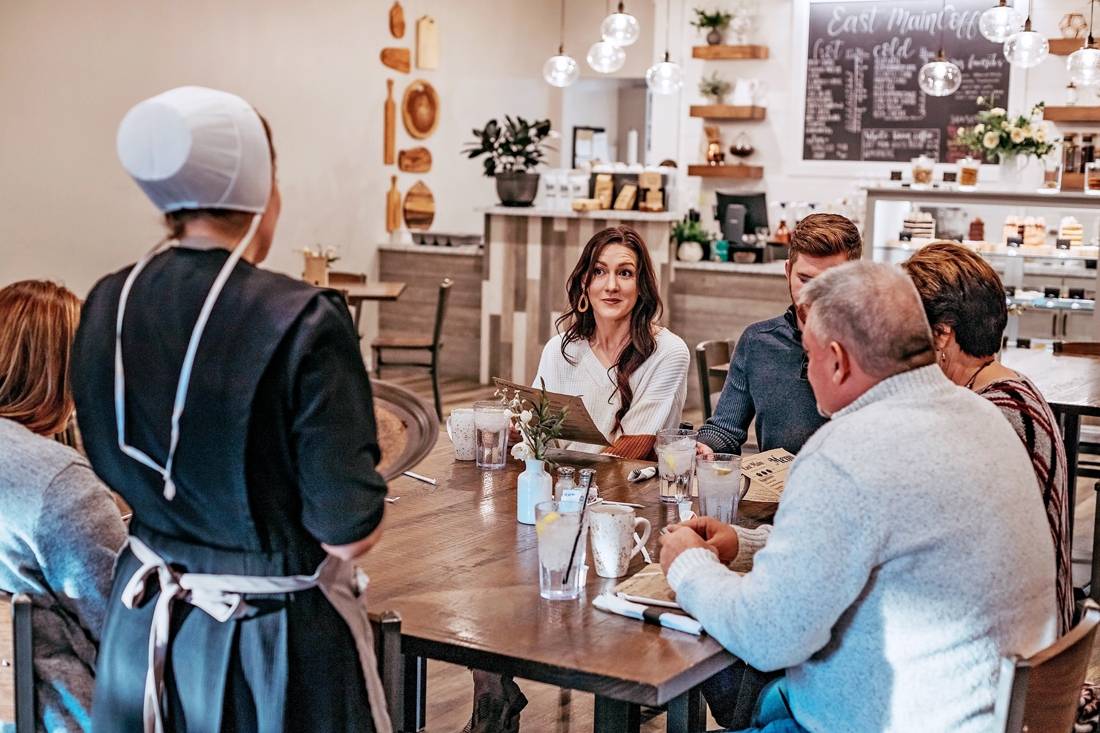 Tricia Yoder
When families flock to Holmes County to experience the Amish culture, the agricultural heritage, and the unique furniture and antiques that define the region, they are often surprised by what else they discover, said Tiffany Gerber, director of the Holmes County Chamber & Visitors Bureau.
"Visitors find that many Holmes County shops and boutiques offer wonderful woman's fashions for all ages, jewelry and other trendy merchandise," Gerber said. "A delicious Amish Country dinner is always a primary attraction in Holmes County, but folks also can enjoy chef-prepared meals and fine wines. With so many unexpected treasures to find, tourists may want to extend their visits to take in the side of Holmes County that they didn't know about."
Sheiyah Market in Berlin may be an ideal place to start your day of shopping. Named for the Amish word for "barn," the market, located in and around a restored barn, features a variety of inspiring shops.
"You'll find fashion, live plants, home decorations and many other items at Sheiyah," Gerber said. "The market recently rebranded and has become a destination in itself."
Similarly, Carlisle Gifts, across from the Der Dutchman restaurant in Walnut Creek, and Dutch Valley Gifts, across the county line in Sugarcreek, offer handbags, shoes and other trending fashions among their wares. Dutch Valley Gifts, located in a converted barn, carries home decor choices that range from farmhouse to contemporary.

Farmhouse Frocks in Millersburg features women's fashions handmade by local seamstresses based on the flowy farmhouse style. Across the street, The Jenny Wren combines more than 50 local families behind one storefront, offering authentic, hand-crafted home furnishings and gifts.

"It's a pleasant surprise to find that you can build an entire wardrobe — including footwear — while enjoying a day in Amish Country," Gerber said. "Shoppers also will find plenty of shops that carry leather goods, belts and handbags."
Holmes County has an eclectic array of eateries where visitors can take a break and re-energize while scouting the shops.

"People always look forward to the wonderful, traditional family-style meals with mashed potatoes, roasted chicken, noodles and pies, but there are many alternatives for diners who want to try something different," Gerber said.

One option is the adults-only Inn at Honey Run, where the chef creates locally sourced cuisine to be enjoyed within the confines of 56 acres of breathtaking landscape and tranquility.

"It's not just a meal. It's an experience," Gerber said. "It's perfect for a couple looking for a quiet getaway or a small business retreat. An outdoor art walk adds to the experience."

Gerber said the Berlin Encore Hotel & Suites in Berlin recently hired a chef who is offering farm-to-table, multi-course meals.

"What better way to showcase our local farms and produce than by serving them to delighted guests?" Gerber said.

A variety of local wineries in and around Holmes County offer quiet venues to relax and enjoy the summer evenings.

"Our wineries are becoming as much a tradition as our cheese houses and Coblentz Chocolates," Gerber said. "Each winery provides its own one-of-a-kind experience."

The Doughty Glen Winery, located at the Guggisberg Swiss Inn in Charm, offers live entertainment most Friday nights on a brand-new deck. Other wineries to sample include The Sunny Slope Winery in Big Prairie, Breitenbach Wine Cellars in Sugarcreek and the Swiss Valley Winery in Dover.

The Baltic Mill Winery in Baltic is situated in a restored gristmill that was in operation until about a decade ago, Gerber said.

If beer is more to your liking, Holmes County has several breweries and sports pubs, including the Millersburg Brewing Co. in Millersburg.

Families may choose to enjoy the "hole" Holmes County experience by challenging each other at the brand-new Country Acres Mini Golf in Berlin.

"The new mini golf course is another fun recreational activity for families to enjoy in Holmes County," Gerber said. "You'll also find plenty of kayaking and canoeing, zip lining, and hiking trails." Birding opportunities, she said, are abundant in Holmes County. "Our parks have recently added more acreage," she said. "With bald eagles and other species, we offer a bucket list for birders. People are looking for more things to do outdoors, which makes Holmes County a wonderful destination."
For more information please contact the Holmes County Chamber & Visitors Bureau.