Flavor of the hay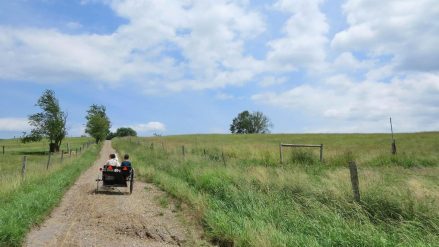 "Two roads diverged in a wood, and I, I took the one less traveled by, and that has made all the difference." — Robert Frost

LaVonne DeBois couldn't agree with that famous poetic line more. She's one of Amish Country's most respected tour guides and the creator of the self-guided tour book called "A Taste of the Backroads."

"I started as a driver for Amish workers, and it was during that time I discovered the beauty of the back roads in our area," DeBois said.

In 1991 she launched a tour company because she knew that "visitors would love to be able to see what I see." Her authentic-experience tours were wildly popular among people who returned year after year to get another taste of the hidden culture of Amish Country.

After more than 25 years of offering a personal approach to discovering the area, DeBois decided to make it easy for people to travel off the beaten path on their own. "A Taste of the Backroads" is a self-guided tour book that includes three distinctive scenic tours visitors can complete all in one visit, or at their own pace during multiple visits. Each route, she noted, is 27 to 30 miles long. The booklet provides detailed turn-by-turn instructions with descriptions of what you'll be seeing during your travels.

"I tell you when to set your odometer to zero, where to start your tour and what you'll see along the way," she said. "Everything is in order with photos and detailed information about Amish Culture."

One of the routes, called Blooms Along the Backroads, features 23 miles of nurseries and greenhouses in and around the Fredericksburg and Mt. Eaton areas.

When you tour with "A Taste of the Backroads," you'll be led down roads that only have room for one car and a buggy. "It's so rural and remote, yet the tours are packed full of untainted beauty," DeBois said. "There are no fast-food restaurants or gas stations."

What you will discover is every aspect of Amish culture, including homesteads, schools, farms and even hard-to-get-to Amish-owned artisan businesses. "I've driven these routes thousands of times and they've been proven
to be spectacular," she said.

Your self-guided tour includes places to take photos, make purchases, eat and take a break. Since you're enjoying the tours on your own time, you can go at a pace comfortable to you and really sink into that relaxation zone. And because you own the tour book, you can revisit the routes anytime you like.

"You'll see Amish Country like never before," DeBois said.

To secure a copy of "A Taste of the Backroads," visit ATasteOfTheBackroads.com for special pricing. If you're already in the area, find the self-guided tour book at Sol's in Berlin, 4914 W. Main St., Berlin (330-893-3134), or at the Berlin Grande Hotel, 4787 Township Road 366, Berlin (330-403-3050). The cost of the tour packet is $45. Private, in-person tours with LaVonne DeBois are available by advance reservation and include the tour packet. Call DeBois at 330-340-7343.