A Passion for Chocolate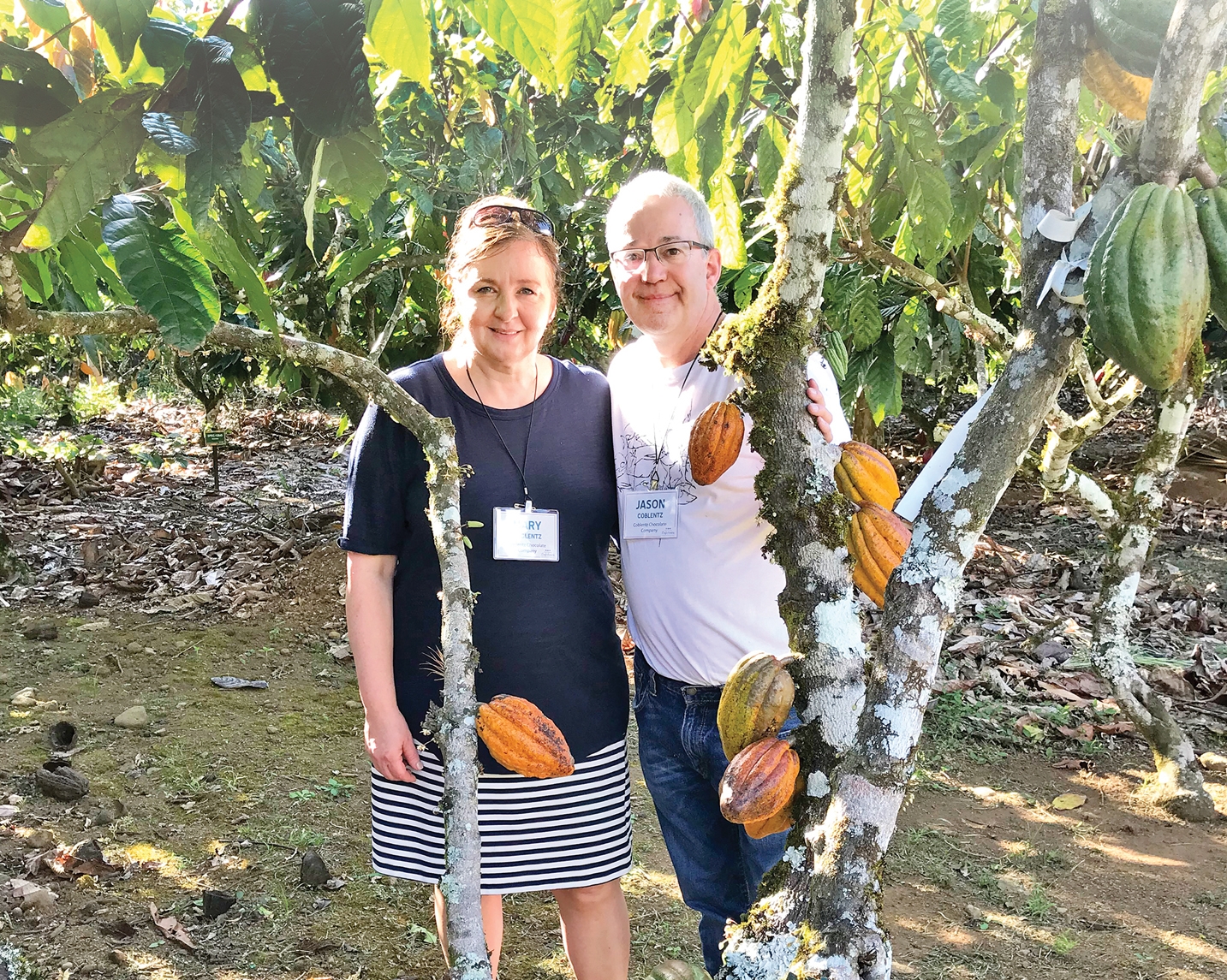 With a few candy recipes and a lot of love for chocolates, Jason and Mary Coblentz made up a few batches—35 different confections—and hoped they would please the sweet-toothed few who were fortunate enough to get a sample.
That was 1987, and 33 years later, Coblentz Chocolate of Walnut Creek is at the very center of appreciation for fans of unique and delicious candy favorites.
The couple began with very high quality chocolate, and continue to use the same chocolate today. Jason Coblentz won't compromise the ingredients which have made lifelong customers from the first taste. "Cocoa beans come from an area around the globe close to the equator," he said, noting he has visited some of the small cocoa farms found around this band. "The quality can vary greatly from grower to grower, and from season to season. We don't process the beans ourselves here, but melt the high quality chocolate we buy from producers we trust."
That trust is a critical bond with suppliers, who provide Coblentz Chocolate with 10-15,000 pounds of excellent chocolate each month.
Coblentz Chocolate makes in-house all the caramels and toffees and other ingredients that find their way into the dozens of confections to be seen at their retail showroom. The store welcomes visitors with the inviting, warm fragrance of chocolate offered from glass cases, baskets and tables around the large retail space. The experience is an irresistible draw for tens of thousands of people year round.
Jason Coblentz maintains the same zeal for the details of chocolate making as at the creation of the company, describing the process of growing, harvesting, drying, roasting and processing cocoa beans into the sweet milk and dark chocolates offered in his retail store.
As a long time chocolatier, Coblentz Chocolate keeps up an unending search for new ways to offer the best possible selection for their customers. "We're watching for flavoring trends, interesting desserts and fresh ideas. We're now making a strawberry sundae truffle which has a ganache-strawberry cream center and is decorated like a fresh strawberry. And right now, it's sea salt," he said. "People love the flavor of sea salt with chocolate."
On the close horizon, Coblentz Chocolate is working to perfect chocolate creations with a hot chili pepper flavoring. "That's the big trend, chili flavorings," he said, pointing to several experimental bites.
As in all the treats at Coblentz Chocolate, various combinations and flavorings are tried, sampled, debated and tested before they go into production.
The process works. A new 25,000 sq. ft. production facility opened last year to help keep up with demand. On Jason Coblentz's wish list for the future is to bring cocoa bean processing in-house. "We would have complete control over the chocolate at that point."
It's a long journey from those first days when Mary and Jason Coblentz hit on the biggest idea of their lives: "Let's make some great chocolate candy people will love."

Visit Coblentz Chocolates at 4917 Walnut St. in Walnut Creek, Monday through Saturday, from 9 a.m. to 6 p.m. (October) and 9 a.m. to 5 p.m. (November-June). The phone number is 800-338-9341. Find them online at CoblentzChocolates.com.