Family-Friendly Fun!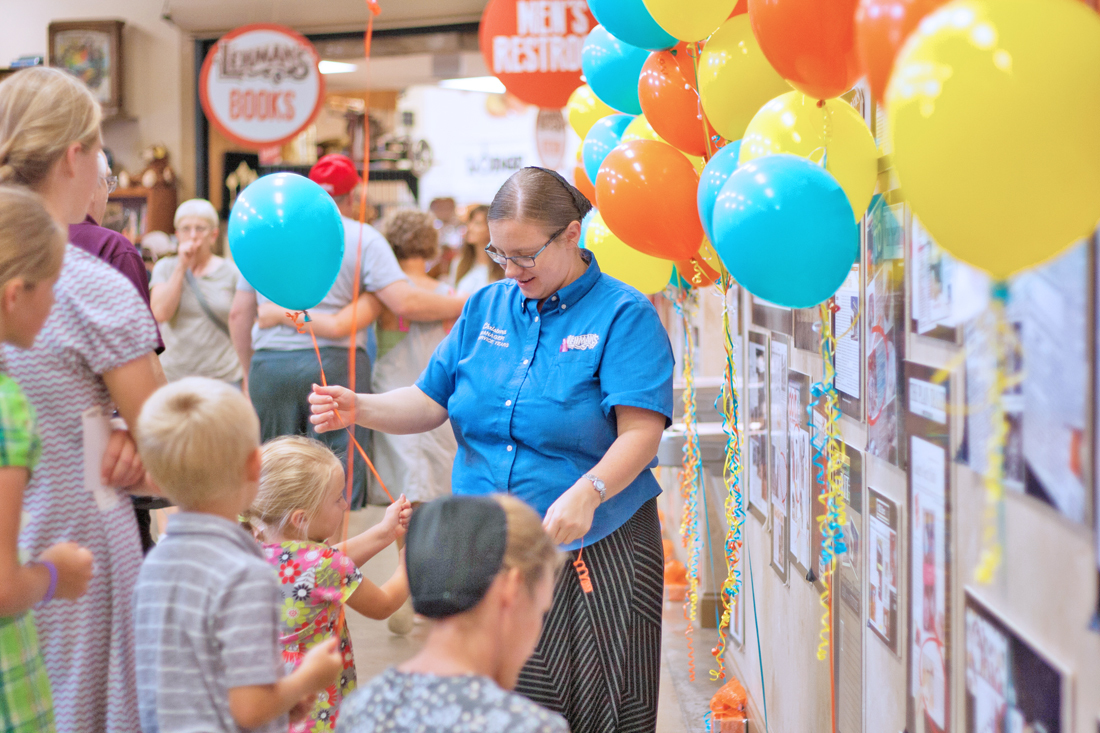 The founder of Lehman's went to great lengths to serve his neighbors in Ohio's Amish Country, stocking his store with the tools and supplies people everywhere once relied on to survive.
Today, scores of visitors come from far and wide to tour the now iconic, family-owned mercantile in Kidron, and every step brings them closer to a simpler life.
The shelves and showroom remain stocked with wood furnaces and stoves, canning supplies, oil lamps, and water pumps, the same as when Jay Lehman's namesake store opened its doors in 1955.
In the decades since, his founding mission has remained intact, as Lehman's dramatically expanded to 35,000 square feet to deliver an immersive experience like no other.
"Our core mission is to provide people with the cake, as my father would say, the things that they need for heat, food, light and water when there is no power," said Glenda Ervin, the founder's daughter and director of marketing. "The icing is all the fun stuff on top."
Every weekend Lehman's plans plenty of fun stuff for visitors of all ages.
"We have a robust event calendar at Lehmans.com/events, everything from seasonal festivals to goat yoga, to ax throwing, to cow cuddling," Ervin said.
Lehman's accommodates visitors with a clean, nonsmoking environment, spacious ADA-accessible restrooms and benches throughout the building.
Perhaps more than any other destination in Ohio Amish Country, with the area's rich tradition of self-reliance, Lehman's puts its stamp on American culture.
Amid a time of soaring gas prices, Lehman's Non-Electric Good Neighbor Heritage Catalog became a fixture in homes across America in the 1970s. Due to the success of the mail-order business, Lehman's became a pioneer on the World Wide Web in the mid-1990s.
"National attention focused on the business because he had the products in stock and the staff members who knew how to use them," Ervin said.
Lehman's continues the tradition of preserving practical knowledge, regularly updating its blog for budding homesteaders and beyond.
Lehman's has the cake and the icing, but the cherry on top might be the bite-sized house outside the store.
"The tiny house on the tiny homestead is 200 square feet of practicality and adorability," Ervin said. "It's aspirational for some, but the idea is to show people how they can live smaller, declutter, get rid of distractions and spend more time outdoors. We encourage everyone to take a tour — it won't take long."
There's more in store.
"It's like 10 stores in one," Ervin said. "There's the pantry room with all kinds of food, the toy room with Amish-made wooden toys and a year-round Christmas room. We've added thousands of hand-made, made in USA products to every area of the store, but the areas that have expanded most are camping, gardening and pet supplies. If you haven't been to Lehman's lately, then you really haven't been."
There really is something for everyone, from artisan-crafted candles and natural beauty products to axes and grills, but Lehman's is by no means a run-of-the-mill store.
"There's not one, there's not two, but no less than three hand-hewn, pre-Civil War structures inside the building," Ervin said. "You can actually see the notches where the ax went into the tree. It's a history lesson. My father once told me, 'Old barns are America's castles.' He wanted to do his part to save the ones he could."
Whether in front of the pre-Civil War jail, the authentic Amish buggy, the vintage phone booth or anywhere in the store, pictures are encouraged, #OnlyatLehmans.
Many, many museum-quality antiques, a good many restored by Ervin's father, adorn Lehman's, everything from a potbellied stove to a goat-powered treadmill to a corn polisher.
"We tell people to go through twice, once looking up high to see all the antiques and then again looking at eye level to see all the products," Ervin said. "We do recommend at least two hours, preferably three or four. It's a big store, and there are so many things to see and experience."

For a simpler life, visit Lehman's at 4779 Kidron Road in Kidron. The phone number is 330-828-8828. Visit Lehmans.com/events for educational excursions and family fun.