Come and spend the day for food and fun!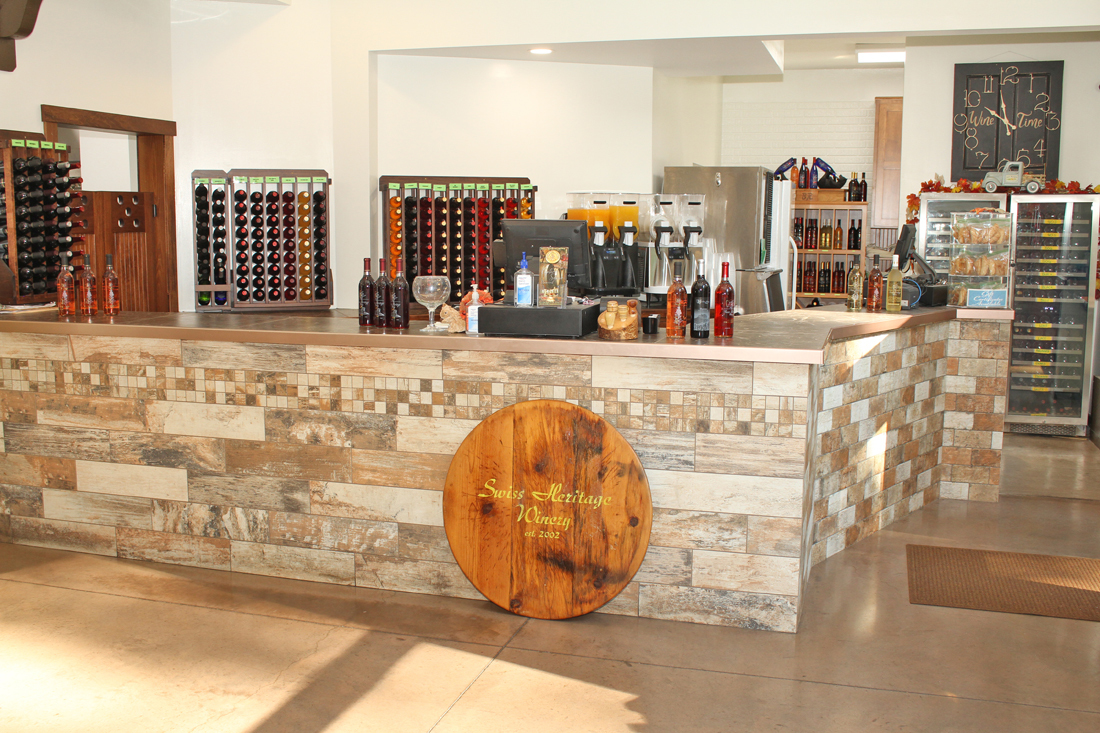 Randy L. McKee
If you've ever visited Broad Run Cheesehouse in Dover/Sugarcreek in the past, you'll certainly recognize the original building today. But if you follow the colorful footsteps on the floor, you'll discover a new boutique shopping experience, an exciting world of delicious food and wines, live entertainment, and an outdoor setting so unique you may never want to leave.

Chad Schindler, president of what now includes Broad Run Cheesehouse and Deli, The Gift Shop and Boutique, Swiss Heritage Winery, and Hans' Place restaurant, has taken his original family cheese factory that opened in 1933 to new heights — literally.
"We have added a few new layers to Broad Run over the past several years for visitors to enjoy," Schindler said. "Along with our cheeses and specialty foods you won't find any place else in Tuscarawas County, we expanded our Swiss Heritage Winery, opened a new building behind the original structure for The Gift Shop and Boutique, and added Hans' Place restaurant, where guests enjoy a wine-tasting room, bar and restaurant. And we call it all Broad Run Corner."
The Gift Shop and Boutique resembles the country store of yesteryear, offering a bit of everything including clothing, shoes, jewelry, food items and more. Han's Place specializes in, of course, all things cheese — like their mac 'n' cheese, famous fried cheese sticks, patti-melt, cheeseburgers, and pizzas made with traditional mozzarella and unique toppings like fig and gorgonzola, and much more. Behind Hans' is a beautiful outdoor patio and multi-tiered deck situated in a heavily wooded section of the grounds, which places diners in a "different world," according to Schindler.
"The front of the building looks the same, the original pole barn style," Schindler said. "But follow those footsteps to the back and you'll find the Gift Shop and Boutique and Hans' Place offering great food, wines made right here on the property, and the patio and deck, situated almost in a valley where diners gaze up at the surrounding hills and trees."
Hans' Place recently introduced two new red wines to its Swiss Heritage collection. Lujan's Dream is a malbec varietal, and Tempranillo is a dry red native to Spain.
"We make all of our wine right here and have added refreshing wine slushies in blackberry, lemonade and cran-apple flavors," Schindler said.
The Cheesehouse and Deli offers gift baskets that make perfect and personalized gifts for everyone on your list.
"Hand-pick your own wine, cheeses and gifts for each basket," Schindler said. "We have everything right here to satisfy everyone's needs. Broad Run Corner is a one-stop shopping experience — then stick around for a fabulous meal. We invite guests to spend a day with us to shop, dine, relax and take in the beautiful surroundings of our very special corner of the world."

Find Broad Run Corner at 6011 Old Route 39 NW in Dover. For information check the website at broadruncheese.com and Hans' Place on Facebook.