Back For More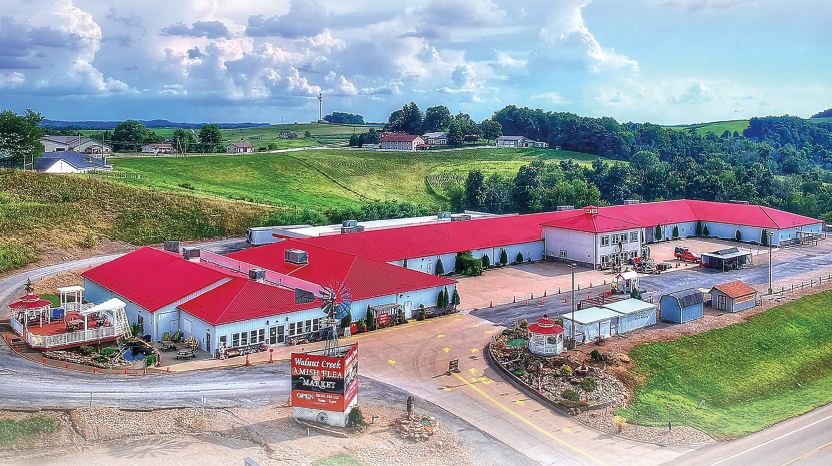 You know you've enjoyed a spectacular shopping experience when you want to go back for more.

More is what you'll discover this year at the Walnut Creek Amish Flea Market, promised Januery Tango, who, with her mother, Betty Zimmerman, owns the popular emporium. That's because a 10,000 square foot expansion is expected to be completed by late spring — bringing Walnut Creek's shopping, dining and entertainment space to almost 70,000 square feet, Tango revealed.

"Many of our visitors said they want more, so we're giving them more," she said. "This is our third expansion since we built the place in 2009. The new addition will accommodate a lot of new vendors."

Many new vendors have joined Walnut Creek from the Holmes County Flea Market, which closed in 2021. Tango said she and her mother first considered expanding the flea market while rebuilding after a fire in 2020.

"We had a waiting list of vendors who wanted to get in, but when Covid hit, it put a damper on our expansion plans," Tango said.

"After the Holmes County Flea Market closed, we had even more vendors wanting to get in, so we saw that as an opportunity to accommodate them, while offering a lot more products and selections for our visitors."

Walnut Creek Amish Flea Market, Tango said, is a one-stop shop where guests can find just about anything they're looking for, with exceptional customer service and a vibrant atmosphere.

Inside, the flea market hosts merchants who sell everything from jewelry to home goods, to beauty supplies, to herbs and cooking supplies.

"We don't duplicate items," Tango said. "That means you're not going to see the same things over and over again from different vendors. It also increases the variety of goods that are offered to our visitors."

Most vendors at Walnut Creek Amish Flea Market are local, but Tango noted that some come from as far away as West Virginia.

Outside, visitors can enjoy the gorgeous vistas of rolling hills.

"People have always loved taking in the landscape, so we rebuilt the east facing sightseeing deck and added a second deck with a nice view looking south and west," Tango said. "It's just absolutely gorgeous. We had it landscaped and added some waterfalls, so you can just kind of sit down there, relax and enjoy the view. I grew up here and lived here my whole life, but I never get tired of the scenery."

For hungry visitors, Grandma Schrock's kitchen, located in the food court, offers burgers, hot dogs and other sandwiches, along with affordable dinner specials.

"We also have a bakery and other food vendors who sell things like roasted almonds and nuts, macaroons, jerky, pop-corn and fudge," Tango said.

The pet-friendly flea market is open on Thursdays, Fridays and Saturdays mid-March through mid-December.

Walnut Creek Amish Flea Market is located at 1900 State Route 39, in Walnut Creek. You can visit WalnutCreekAmishFleaMarket.com or call 330-852-0181 for more information.