A warm welcome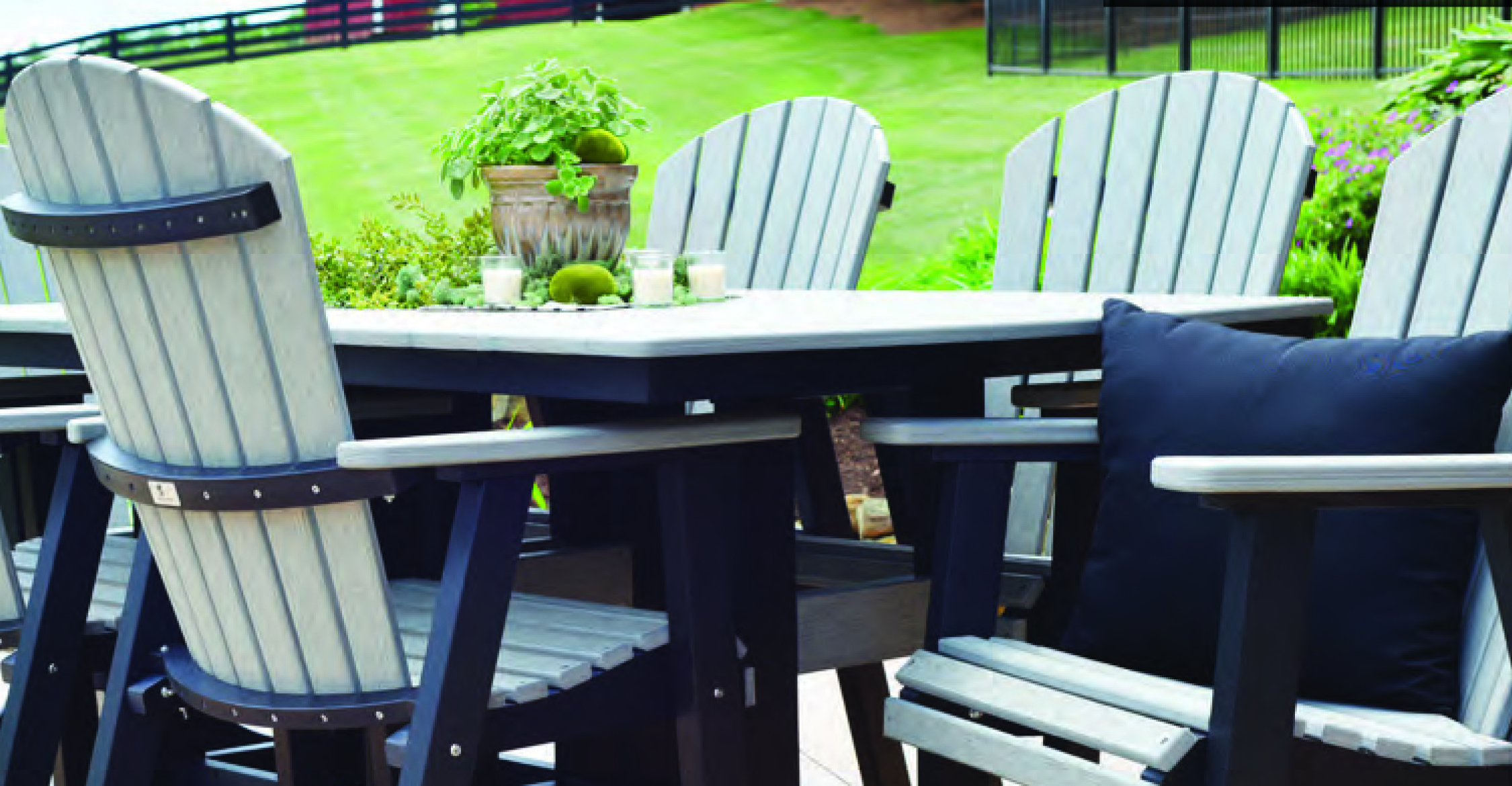 A visit to Kauffman Lawn Furniture feels less like a shopping excursion and more like a family adventure. "It is fun," said David Kauffman, who owns the sprawling outdoor emporium along with his wife, Dorothy. "Especially for the children, who run straight for our play sets. We have many wood and vinyl swing sets on display. When you come here it's like visiting a neighbor. We are always happy to see friends who started out as customers."
For more than 20 years, Kauffman Lawn Furniture has been a prime destination for quality-built outdoor furniture and yard accessories of all kinds — Log cabins to birdfeeders.
Kauffman Lawn Furniture carries top-of-the-line wood and vinyl pergolas, pavilions and gazebos from Berlin Gardens, and Sunrise log cabins. The company also offers custom-designed structures and on-site visits for measurements and quotes.
"Our garages and storage barns are built by JDM Structures and can be built on site or prebuilt and delivered," David Kauffman said. "We use real logs from local sawmills for our log cabins and playhouses. People can come in with their own plans, or we can work with them to design something that is perfect for what they need. We do portable structures and we also build on permanent foundations. We're very versatile and easy to work with."
That, along with Kauffman's commitment to unsurpassed workmanship, he said, are among the reasons the company has gotten orders from Ontario and Florida, to California.
"We also have a professional delivery crew, which delivers your furniture and sets everything up, and has become a very popular option that is affordable and convenient," Kauffman said.
Kauffman Lawn Furniture, he said, started by selling picnic tables and Adirondack chairs, and first introduced poly-vinyl outdoor furniture in 2002. The poly furniture is made locally by nearby Berlin Gardens as well as other local manufacturers.
We always tried to stay on top of new products and introduced poly-vinyl furniture to our traditional wood selections which has grown to the majority of our business due to poly-lumber making strong, comfortable outdoor furniture without hassles typically associated with upkeep. It is easy to care for, does not require painting and can withstand harsh weather. Poly is an environmentally friendly choice because it is made from recycled milk jugs.
Last year we added a new line of poly furniture called "natural finish" that is designed to look like distressed wood. That style has quickly become very popular, so this year we have added two new colors.
The comfort of outdoor furniture has come a long way, he said.
"A lot of it is deep seated and upholstered just like your indoor furniture, except that it's designed to withstand the weather," he said.
Poly furniture is available in 30+ colors and color combinations. In addition to a large selection of cushions and throw pillows, in over 50 colors and prints, we use a sunbrella fabric that is fade resistant and can be left outdoors. These cushions are all made locally. Custom sizes and thickness are available. There are also curtains and shades available for pergolas and pavilions, also sunbrella fabric.
Kaufman's firepits, he said, go hand in hand with the rugged, comfortable outdoor furniture.
"People are looking for a whole outdoor experience," Dorothy Kauffman said. "They are putting up pergolas and pavilions with groupings of furniture around them, and supplementing it all with firepits that burn wood, propane or natural gas."
Because Kauffman's displays almost everything it sells outside, visitors are free to drop by and browse even during off hours, she said.
Kauffman's is opening a new showroom, 2,000 square feet where they have expanded their line of Children's Furniture and rustic furniture to go with cabins.
"We have hundreds of chairs to try out, along with mailboxes, baskets, wagons and rocking horses," David Kauffman said.

Kauffman Lawn Furniture, located at 4540 U.S. Route 62, one mile north of Berlin, is open for business Monday through Saturday from 8 a.m. to 5 p.m. Hours will extend to 9 p.m. in the summer. Find out more at www.KauffmanLawnFurniture.com, or call 330-893-3149.