A star is born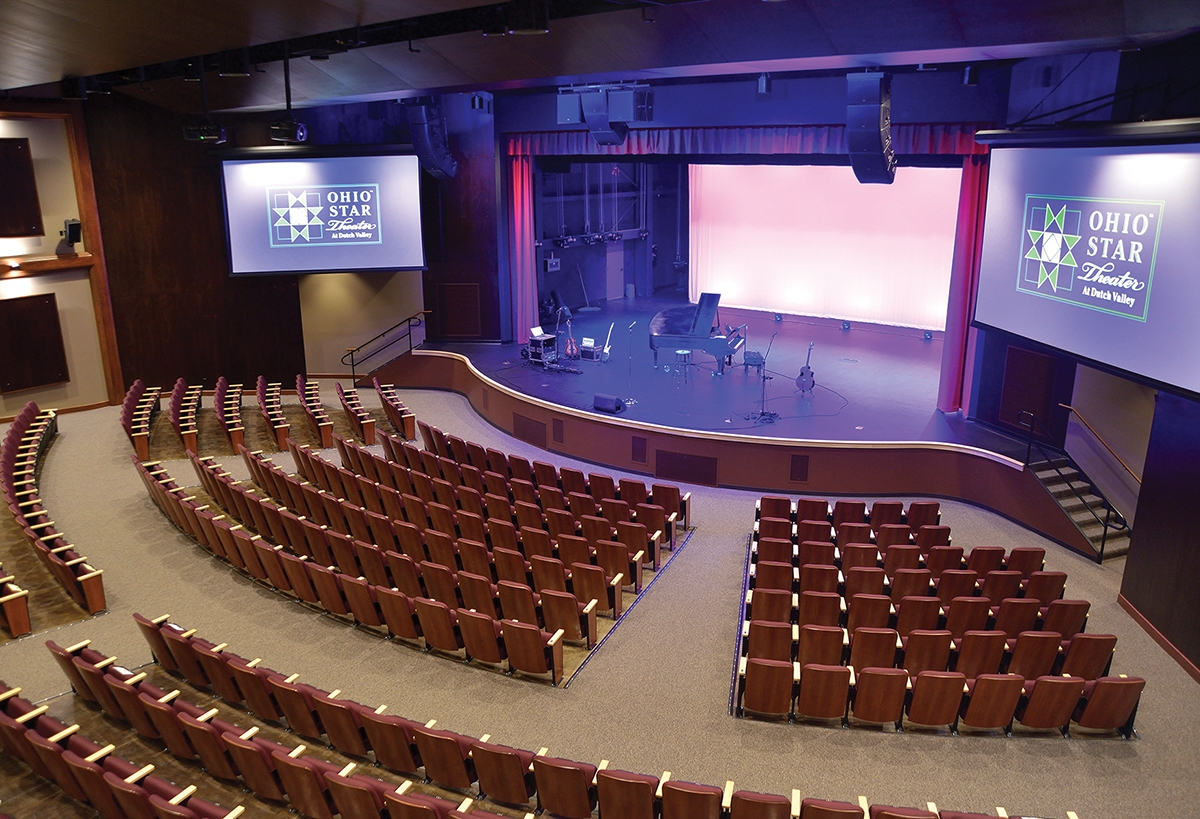 Submitted
The size of the new seating area has created the perfect venue for musical acts and concerts.
Created with the Amish Country tourist in mind, Dutch Valley in Sugarcreek has spent over 40 years on the grow. "We're constantly working to try and better ourselves," said Vicki VanNatta, part of the marketing and public relations team that supports the company responsible for creating a warm and welcoming inn, market, restaurant, bakery, marketplace and gift shop.
But — as it has since its relaunch in 2017 — it's the Ohio Star Theater, located on the attraction-based campus, that continues to draw visitors from across the state and beyond. Since opening its doors to a wildly receptive public, the Ohio Star Theater has become known as much for its wholesome, family-friendly entertainment options as it has for the diversity of its engaging productions.
"Every month we add a more eclectic assortment of performing artists, and our Broadway-style musical productions continue to provide appealing entertainment," VanNatta said. "For the 2019 season, we're really kicking things up a notch. Two new shows have been added to the roster this year, and visitors to the area won't want to miss them."
The best way to stay up-to-date on the latest scheduled acts is to check the website, OhioStarTheater.com. The list of performers is constantly evolving, VanNatta said, and includes everything from concerts and comedy to musical theater.
Here's a sample of what you can expect when you grab your ticket to the show this year:
Better Than Broadway
"Stolen," Tuesday, April 9 through Thursday, Aug. 15
"Stolen" centers around an Amish community that's shaken when the infant son of a prominent local family is kidnapped. Twenty years after the event, the town is thrown into turmoil when the case is reopened. A unique mystery filled with intrigue and humor, this show is a must-see.
"A Simple Sanctuary," Friday, Aug. 23 through Saturday, Nov. 9 – New!
Melissa James has no choice but to flee. Pursued and living on the run, she finds desperate sanctuary in Amish Country. Part suspense, part romance, "A Simple Sanctuary" is a compelling story of love tested, the cost of freedom and the solace found in community.
"The Christmas Tree Ship," Tuesday, Nov. 19 through Saturday, Dec. 28 – New!
New for the holiday season, "The Christmas Tree Ship" is a riveting tale inspired by a true story. Find out what happens when a ship, a storm and one family's mission to rescue Christmas for their community come together.
They Write the Songs
Musical guests this year run the gamut from country to a Carpenter's tribute band. Ricky Skaggs, appearing Saturday, Aug. 3 at 1 p.m. and 7 p.m., brings his Grammy Award-winning sound to the stage. Christian singers Sanctus Real will delight audiences on Thursday, Sept. 26 at 7 p.m. Discover more sensational singers on the Ohio Star Theater website.
Holiday Happenings
It might seem early to start thinking about the holidays, but the seasonal productions at Ohio Star Theater are so popular that by this writing many will have already sold out. Check the website for a current list, which includes Phillips, Craig and Dean on Friday, Dec. 6 at 7 p.m. and Point of Grace on Thursday, Dec. 19 at 7 p.m. Score your tickets early so you don't miss a minute of seasonal singing splendor.
The Ohio Star Theater regularly packs its 514-seat house with Christian artists, comedic acts and more, so if you've got your eye on a particular show, it's best to book your seats early.
"Every seat here is a great one," VanNatta said. "People who come to our shows have nothing but positive reviews. The beauty of our productions is they're appropriate for anyone. You never have to worry about bringing the kids or mom and dad because the shows are wholesome and entertaining — and the quality rivals any Broadway production."

To grab your seat at the show, you can buy your ticket online at OhioStarTheater.com, visit either of the Dutchman Hospitality inns or call 1-855-344-7547. The web address to locate all properties owned and operated by Dutchman Hospitality Group is DHGroup.com. Find the Ohio Star Theater on Facebook at Ohio Star Theater at Dutch Valley. The theater is located on the Sugarcreek campus. A sister property in Walnut Creek boasts an impressive array of amenities and includes overnight accommodations.