A Grand Place To Rest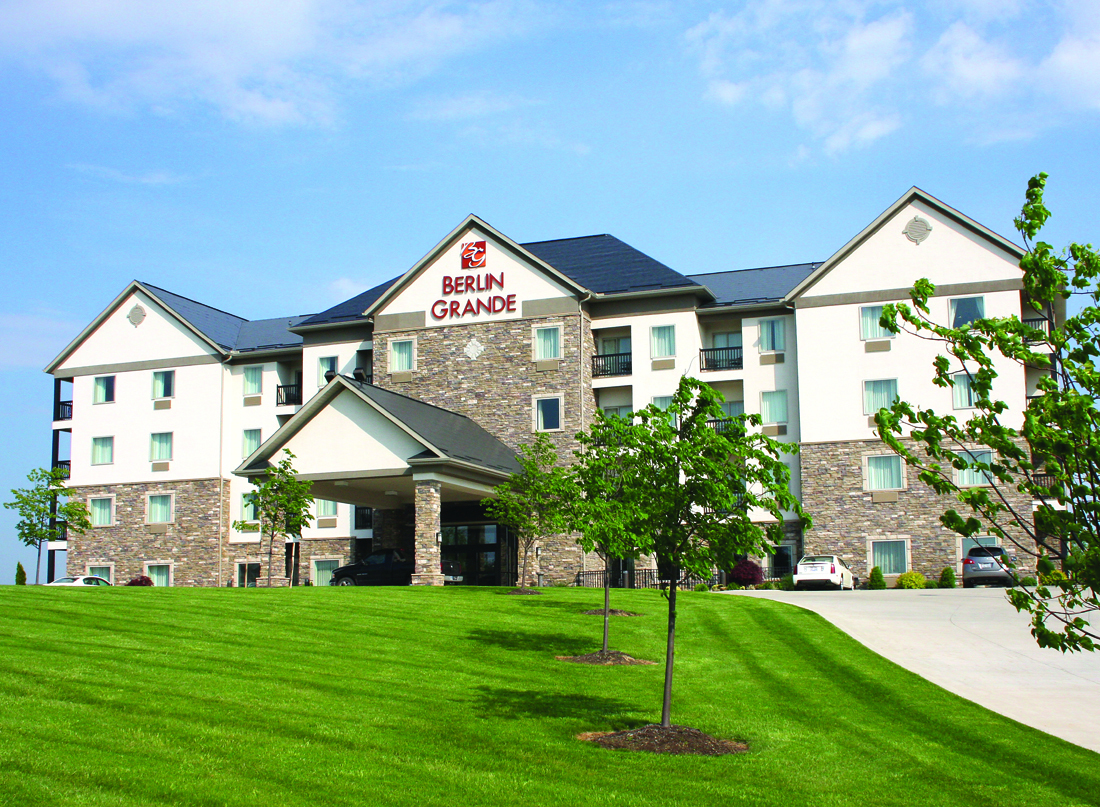 Randy L. McKee
There are a variety of reasons people choose to stay at the Berlin Grande Hotel. The contemporary, 102-room boutique hotel is a hidden gem, nestled high on a hill just blocks from downtown Berlin. This makes it both an ideal and convenient location for sightseers and business travelers, and its spacious accommodations are fit for
families and groups.
For many, however, it's the creature com-forts that make their stay truly grand.

With a visit to their website and with the click of a mouse, it's easy to see why guests return again and again to this one-of-kind four-story hotel in the heart of Amish Country.
Recently Expedia, one of the world's premier online travel agencies, chose the Berlin Grande for its exclusive Insider's Select Award, naming it one of the top 650 hotels globally based on overwhelming positive guest reviews.

"This is a huge accomplishment for us because it's based solely on guest reviews," Berlin Grande General Manager Doug Burgess said. "We're also a AAA Diamond Designated hotel. Our biggest award though, comes any time our guests enjoy their stay."

Guests rave about the extended continental hot buffet breakfast that brings them back for seconds.

"The breakfast that our incredible kitchen staff prepares each and every morning is wonderful, and ranges from sausage gravy and biscuits to omelets to freshly baked cinnamon rolls," Burgess said. "We also have gluten-free options, yogurt, mix-ins, and fresh fruit.

Our breakfast books us a lot of rooms, and it exceeds expectations almost every time a guest has the pleasure to experience it."

The extended continental breakfast is one reason why families stay at the hotel, in addition to the sizable rooms that include microwaves, refrigerators, and counter space. Another reason is the indoor saltwater pool.
"The indoor saltwater pool is open extended hours each day from 7 a.m. to 11p.m. to better serve our guests," Burgess said.

"Saltwater is better for you – it's easier on the skin since we don't have to use all the chemicals. Women like it, too, because it's mild on their hair. We've also used Bee Kind natural soaps, shampoos, conditioners, and moisturizers for years and guests love it."

The Berlin Grande is a place to rest easy. "Guests tell us that our mattresses, which are handmade locally, have given them some of the best sleep they've ever had," Burgess said. "We give them the brochure and off they go to visit the show-room. That's another creature comfort that makes us a little bit different from a standard hotel."

The hotel also boasts two conference rooms, a pavilion with a courtyard lit by fireplaces, and a fitness center. More than the creature comforts, however, it's the hotel's staff that really makes the stay.
Burgess concludes by saying, "The Berlin Grande staff is what makes the Berlin Grande hotel what it is. From the local owners to our management company Riley Hotel Group, to every single employee here who wants to do good and are good at what they do."

Make your stay at The Berlin Grande Hotel, 4787 Township Road 366, in Berlin, by calling 877-485-2448 or visiting BerlinGrandeHotel.com. See how others enjoyed their stay on Facebook at Berlin Grande Hotel.