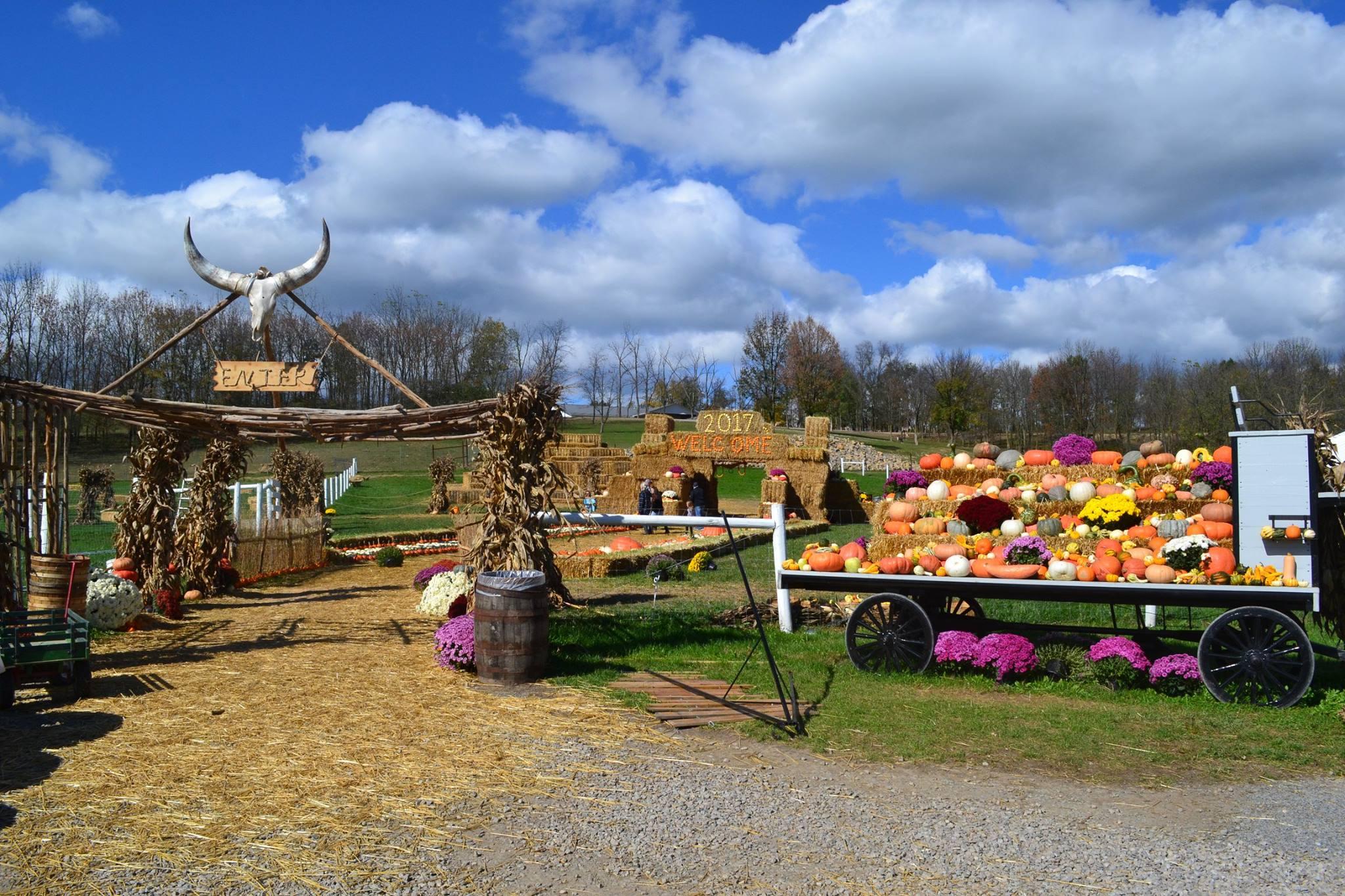 Fall Festival at The Farm at Walnut Creek
OCT. 11 TO 26 (CLOSED SUNDAYS)
We're celebrating fall! There is something for everyone each year at "The Farm at Walnut Creek's Fall Festival," located at Walnut Creek, Ohio.
Weekday Fall Festival Activities (Mon-Thurs)
Corn Box for Kids (similar to a sandbox)
Pumpkin Slingshot
Straw Castle
Kid's Maze
Fall Decorations for purchase
Scavenger Hunt
Optional: Wagon Rides through the Animal Park
Food available to purchase is Hot Dogs, Kettle Corn and Ice Cream.
Weekend Fall Festival Activities (Fri & Sat), in addition to the list above
Apple Butter Cooking
Sorghum Cooking
Candle Carving Demo
Spinning and Weaving Demo
Broom Making Demo
Basket Weaving Demo
Foods available to purchase include Grilled Sausage, Hot Dogs, Beans cooked over an open fire, Ice Cream, Kettle Corn and homemade Pumpkin and Apple Pies
The Farm will open at 8:30am and will stay open till dark. The last horse drawn wagon ride will depart at 6:00 pm. Food is not included with admission rate. The horse drawn wagon rides are available on a first-come, first-served basis.
The Farm at Walnut Creek is home to more than five hundred domestic and exotic animals from six different continents most of which roam freely throughout "The Farm." Among some of the animals to be found are giraffes, Grevy zebras, dromedary camels, red tail kangaroos, swamp water buffalo, watusi, elk, nubian goats, African spur thight tortoises, Vietnamese Pot-bellied pigs, Percheron draft horses, Sicilian donkeys, Rhea, Ostrich and six different types of cattle including Scotch Highland cattle.
Don't forget to tour two non-electric Amish houses and the many barns located on the property. "The Farm at Walnut Creek" is a fun and educational experience for people of all ages.
Regular Admission rates will apply. Cash or Check only.
General Admission
Adult........................$11.75
Children (3 - 12).........$8.75
Seniors......................$8.75
Group Rates (15+)......$7.75
Admission Plus Wagon Rides through the Animal Park
Adult........................$16.75
Children (3 - 12)........$11.75
Seniors.....................$11.75
Group Rates (15+).....$10.25
For more information, please call 330-893-4200.
| | |
| --- | --- |
| Event Location | The Farm at Walnut Creek - 4147 Co. Rd. 114, Sugarcreek, OH 44681 |
| Date | Friday, October 11, 2019(all day) |
| Duration | 1d |
| Repeats? | Repeats Daily, starting from Oct 11, 2019, until Oct 26, 2019 |
| Upcoming Recurrences | No occurrences found for this timeframe (next 6 months from today). |