Welcome to Hartville Hardware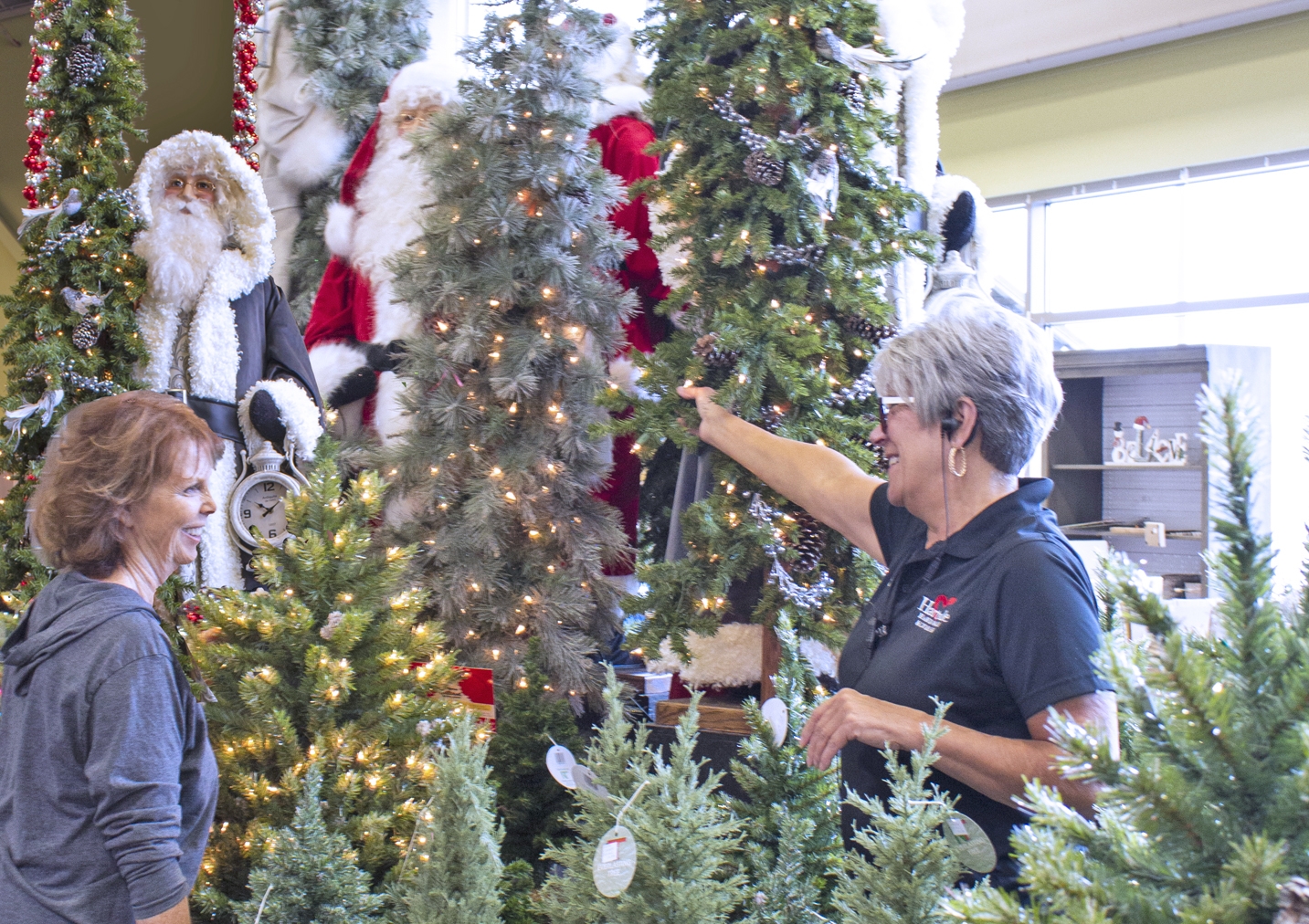 Seasonal transformation from Outdoor Living to all things Christmas, with over 8,000 square feet of holiday cheer.
While the landmark Hartville Hardware & Lumber may be the newer kid on the HRM Enterprises property, it is, without question, quite impressive. Opened in 2012 by the Miller family, members of which own all of the businesses on the multi-acre property, Hartville Hardware & Lumber is nothing short of spectacular. "People often marvel that it's like the FAO Schwarz of home improvement," said Katherine Merkle, marketing director for the store.
She's right. The magnificent 305,000-plus square feet of home improvement and enrichment goods is enough to make even the most basic home improvement or decorating enthusiast feel like a kid in a candy shop.
Women in particular like to visit Hartville Hardware, Merkle said. "We're very female and family friendly," she said. "This isn't the stuffy hardware store your grandfather used to visit. Our store is warm and welcoming no matter where you fall on the do-it-yourself spectrum. Our experienced, educated staff members are here to guide, and our store has been designed to provide inspiration and know-how."
During my visit, the mailbox aisle alone kept me enraptured for a good hour. And if you're like me, you'll find yourself marveling over the sheer variety in each category. Things you didn't even realize existed can be found here. "People love to touch, feel and experience what they're buying, particularly when it's going into their home. A visit here is as immersive as it is satisfying."
Take, for example, the 1,830-square-foot Idea House located inside the store. That's right, I said inside. It's fully outfitted with items you can find right in the store and has been created to provide inspiration.
"It's a fully functioning home that even includes things like miniature sliding barn doors to cover the TV above the living room fireplace and a pet washing station in the laundry room," Merkle said.
Behind the Idea House are row houses featuring complete kitchen and bath room designs. And virtually every department offers the option of having a Hartville Hardware home improvement pro take care of the installation for you. They service customers within a 30- to 50-mile radius. Although if you want to tackle it yourself, expert guidance is available at no charge.
During the fall, the exterior becomes a haven for pumpkin and gourd lovers. Check out the freshly installed giant Adirondack chair while you pick your favorite Jack to carve. Merkle said it's the perfect place to capture a selfie to commemorate your visit.
Inside, the outdoor living area gives way to all things Christmas. "Our Christmas shop is 8,000 square feet of holiday cheer," Merkle said. "It's the largest Christmas shop in the area." You'll find everything from trees and wreaths to thousands of ornaments of every size, shape and theme to a selection of manger sets and yard décor.
And because Hartville Hardware is so much more than a resource for the DIYer, you'll find an enormous housewares section with unique items for the home alongside placemats, aprons, napkins, soy candles and more. There's even an area for the kids packed with a plethora of quality toys.
Do you Yeti? Then you've come to the right place. Hartville Hardware has the largest Yeti offering in the area. This section is packed with coolers, tumblers, T-shirts and hats.
Bird lovers in particular flock to Hartville Hardware, where houses, feeders, seed and bird accessories are waiting to fly the coop with you.
"Our focus is on creating customers for life," Merkle said. "Everything we do centers around our business philosophy of putting God first and treating others the way we want to be treated. We go above and beyond to cater to the over half-million guests we serve each year, and we look forward to welcoming them back for years to come."
Spending the day browsing every conceivable type of home improvement item is bound to leave you hungering for more. Take a break at the onsite family-owned Hartville Kitchen for freshly prepared Amish-styled home cooking, or the Bakery, with many recipes that have been handed down from great grandmother Soloma. Browse The Shops filled with jewelry, clothing and more and visit the Hartville Marketplace & Flea Market located behind the hardware for acres of unique indoor and outdoor shopping fun. Start a family tradition and create memories: there is truly something for everyone.

Hartville Hardware & Lumber is located at 1315 Edison St. NW in Hartville. The phone number is 330-877-3631 and the web address is HartvilleHardware.com. Modified store hours are Monday to Saturday from 8 a.m. to 7 p.m. and Saturday from 8 a.m. to 6 p.m.