Time To Settle In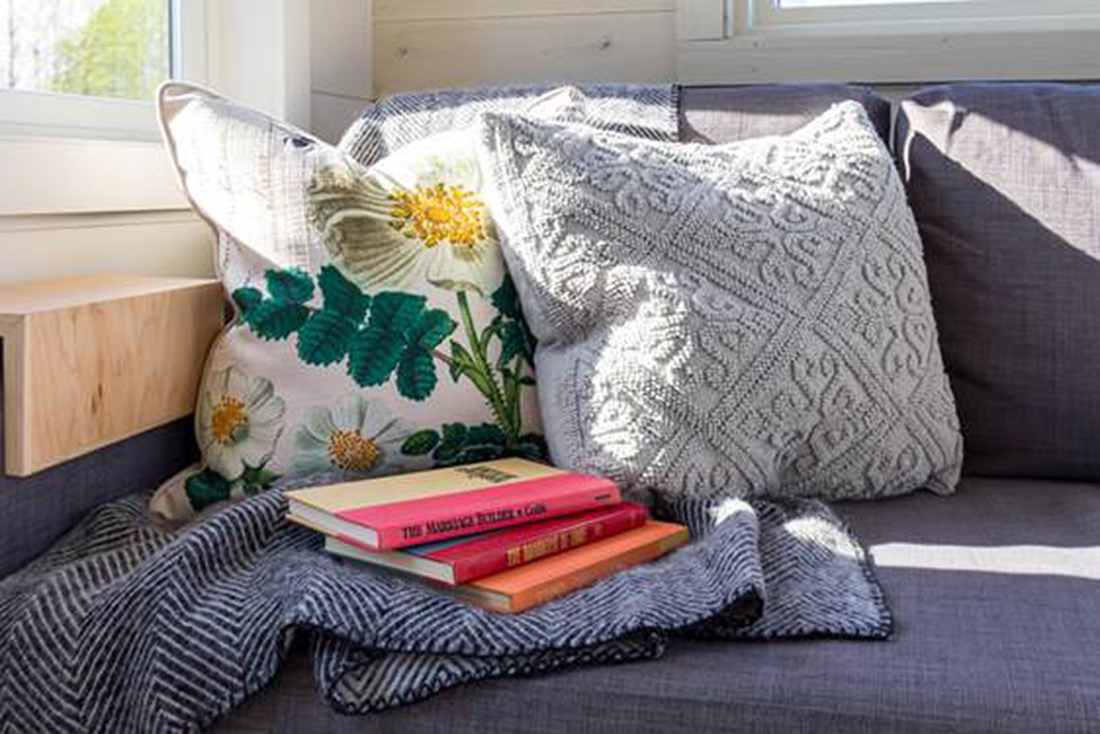 Diane Troyer, manager of Floret Hill, the new boutique countryside retreat in Walnut Creek, knew a great opportunity when she was presented with one in 2019. Troyer's uncle, Abe Miller, had purchased a 25-acre property behind The Farm at Walnut Creek with a dream of building Airbnb-style vacation rental properties.
"I was living in Columbus and working in hospitality and property management and thinking about moving back to this area where I grew up," Troyer said. "My uncle proposed this idea and made me an offer I couldn't turn down."
Used to dealing with properties already built and operating through her job managing college housing complexes, Troyer welcomed the transition into design and project management.
"The first thing we decided to do is to break the project up into phases that will eventually include large rental homes," Troyer said. "Today, phase one consists of seven smaller units, a combination of cottages and tiny homes, that are ready for guests."
Floret Hill defines genteel country lodging. The idea was to create elegant spaces in the middle of this quiet, bucolic and serene setting for a relaxing and restorative experience for guests.
"The seven units available now consist of five tiny homes, the one-bedroom 'Cabin' and the three-bedroom 'Barn,'" Troyer said. "We've created each space with its own theme that makes it unique, warm and inviting."
The tiny homes each offer washer/dryer if extended stays are needed, while the one-bedroom Cabin is a cozy, comfortable space filled with rustic charm and a simple design and decor. The three-bedroom Barn offers a more open-concept space with black and white decor and a modern farmhouse style. The cabin and barn both feature personal fire rings.
"The Cabin, Barn and the five tiny houses with loft-style sleeping areas are furnished with a full kitchen, microwave, refrigerator, WiFi and smart televisions," Troyer said. "We have carefully chosen each detail of the cottages and tiny homes so our guests can experience all the beauty and serenity the grounds of Floret Hill have to offer while looking forward to the comforts of home at the end of their day. There's so much to offer in this area that your personal experience at Floret Hill can be whatever that perfect getaway means for you."
Escaping the bustle of your daily life and immersing yourself in the restorative surroundings of Floret Hill is what Troyer hopes all guests will experience here. There's a large fire ring that is central to the property, where guests can gather each evening for companionship and conversation. The Barn and Cabin both offer private firepit areas when guests prefer a bit more privacy.
Floret Hill offers guests contactless check-in. Once a reservation is made, guests receive a confirmation email with an entry code to be used for the unit throughout their stay.
"Even if you're from the area and your getaway is a staycation, you'll feel transported to a beautiful, tranquil space and not the uninspired surroundings of a hotel room," Troyer said. "Yet you're not far from all the culture, shopping and unique experiences that this area of Ohio has to offer."
The Route 39 corridor of Sugarcreek, Walnut Creek and Berlin, Ohio is a destination spot for visitors near and far, yet there's never been anything quite like Floret Hill for a lodging experience. It immerses guests in serene surroundings and undisturbed landscapes with elegant, cozy and comfortable accommodations.
Troyer encourages guests to explore the area with its shops, museums and all of Amish Country's attractions, but also the grounds of Floret Hill. As guests wander the property, they will find a walking path, bird sanctuary, wildflower garden and even a wild animal or two from The Farm at Walnut Creek located nearby.
"Floret Hill is an open-concept environment, which means on your walk you may see deer, buffalo, bison and even an ostrich or two from the farm behind us," Troyer said. "Our goal is for our guests to reconnect with nature, with each other and with this community — all in a peaceful and luxurious experience." 
Floret Hill is located at 3311 Township Road 157, just off Route 39 east of Walnut Creek. For more information and for online reservations, visit FloretHill.com.