They've got it covered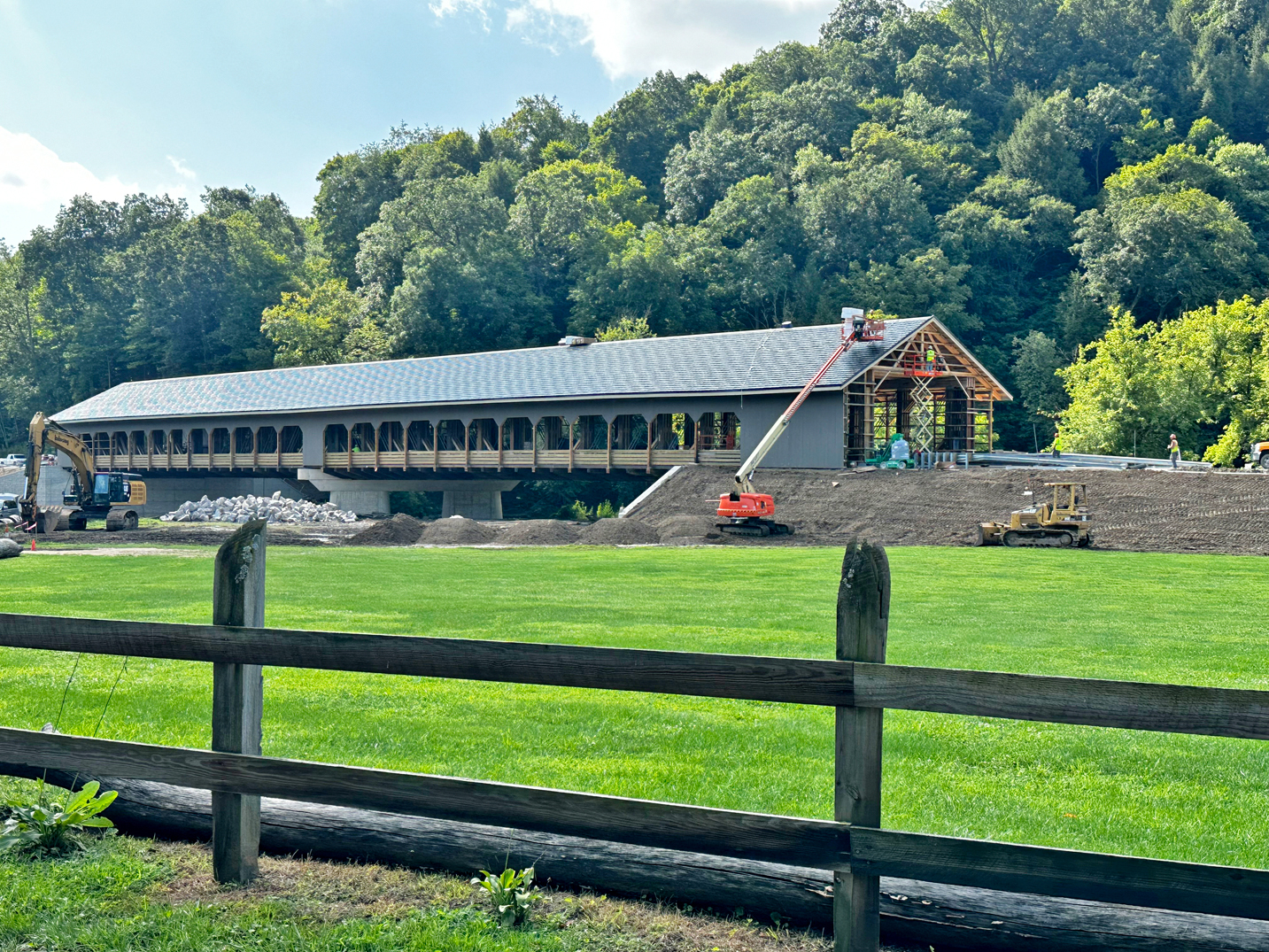 There's a certain nostalgia that accompanies a covered bridge. These structures seem to transport people back to simpler times, and while covered bridges aren't as commonplace as they once were many years ago, there is a large contingent of people who travel around the world photographing and visiting these bridges.
The recently completed Spellacy Bridge near Loudonville, Ohio is certainly one for the ages that should lure plenty of people to witness its grandeur.
"Covered bridges have a certain appeal that brings people to see them," said Holmes County engineer Chris Young, who helped engineer the construction process of the bridge. "There's a certain beauty to them and this one definitely is an amazing sight."
After months of construction and plenty of fanfare and anticipation, the bridge was open for business on Wally Road just south of Loudonville over Labor Day.
Under the expert guidance of Kokosing, the company who built the bridge, the former dilapidated and unsafe bridge is gone and in its place is a picturesque thing of beauty.
Now not only can local traffic utilize Wally Road, but tourists who flock to the Mohican area will have one more destination stop to make on touring Amish Country and the beautiful Mohican River basin.
"Spellacy Bridge is going to be a major attraction for our area," said Dave Hall, Holmes County commissioner. "It's a stunning piece of architecture that is certain to bring many people to the area just to see it because of the sheer magnitude and beauty of it."
To put the size of the new bridge in perspective, The Bridge of Dreams near Brinkhaven that spans the Mohican River is 370-feet long. It is the second largest covered bridge in Ohio and the third largest covered bridge in the United States. The Smolen-Gulf Bridge in Ashtabula County is currently the largest covered bridge in the nation, spanning a whopping 613-feet across the Ashtabula River.
At 300-feet, the Spellacy Bridge is going to be a uniquely large, covered bridge that should draw plenty of tourists to view it. Add to it the sheer beauty and it provides plenty of reasons that the community should be excited about not only the bridge providing safe travel across the Mohican River, but a tourist destination that will invite many people to come and see the bridge.
Once the evening lights are in place and the landscaping around the bridge is fully complete, Spellacy Bridge will be a wonder to behold.
Young said that there is still some cosmetic work that needs to take place to fully enhance the beauty of the bridge, but he too said it will be a picturesque bridge that will only enhance Loudonville and the Mohican area's allure.
"We still have trees to plant and seeding, but once it's totally complete it is going to be a beautiful bridge and an amazing addition to the area," Young said. "This bridge is going to be a special part of our county and a truly wonderful destination for many people, plus it will serve a vital role considering that the old bridge there wasn't able to safely allow heavy transport over it."
With the incredible beauty of the winding Mohican State Scenic River providing a perfect place for people to tour Mohican Country via canoe, innertube or kayak, Spellacy Bridge will add another major attraction to those gliding along the river, enjoying a relaxing day on the water.
The Wally Road Scenic Byway and the Mohican Scenic River Valley provide a getaway for more than 1 million visitors annually, and for good reason. The area is teeming with an endless array of spectacular scenery, featuring plenty of tranquil, serene spots that are ideal for photos or picnics.
There are also plenty of trails to bike and hike in the area, especially at Mohican State Park. In addition, there is Cleo Redd Fisher Museum, Wolf Creek Pine Run Grist Mill, Mohican Adventures and more inviting stops that will enhance any tour of the area. With plenty of fishing, hiking, picnicking, camping and more to do, the area is lush with enjoyable family and couple activities, whether it's a one-day getaway or a week-long stay.
However, the addition of Spellacy Bridge along with the existing Bridge of Dreams will create a rare opportunity for those who love visiting covered bridges a chance to visit two of the nation's largest covered bridges in one trip.