Summer lovin'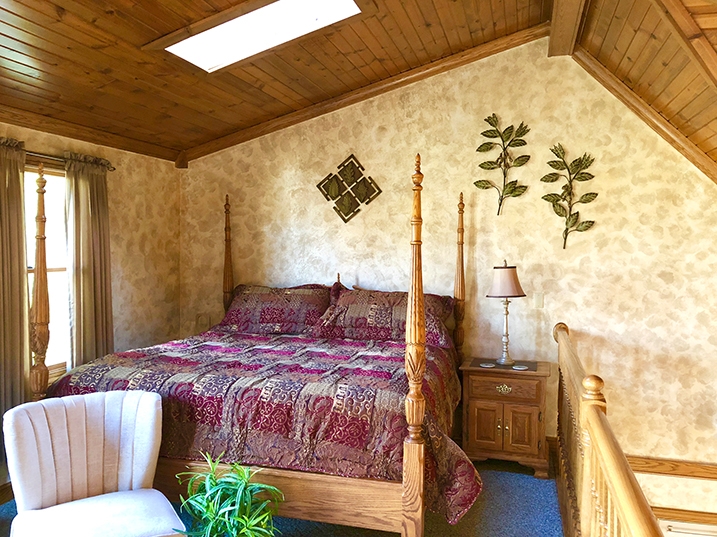 Randy L. McKee photo
Your summer of romance kicks into full gear with an in-room couple's massage and the use of Donna's comfy robes.
"People tell us all of the time how affordable we are," said Donna Marie Golden, owner of Donna's Premier Lodging — one of the area's finest bed and breakfasts and a wildly popular Amish Country destination for couples yearning to reconnect without planning a full-blown destination vacation.
"We are certainly a destination," she said. "But because we're located so close to Cleveland and Columbus, it's easy to make the trip to our lovely Berlin-based accommodations and still feel like you're getting away from it all."
Donna's Premier Lodging is comprised of 17 well-appointed chalets, cabins, cottages and villas, some located in the heart of Berlin with others located a little bit away from it all. The type of accommodation you and your special someone choose depends largely on the type of experience you'd like to have, Golden said.
Donna's woodland cabins and chalets, located about a mile from the center of town, attract those who crave privacy and the opportunity to be closer to nature. A stay on Donna's main grounds combines privacy with the ease of a close walk into town. Every room at Donna's features a Jacuzzi and fireplace to keep your summer of romance cozy and intimate, and every stay includes a generous continental breakfast, or you can upgrade to a hot country breakfast.
To underscore her point about affordability, Donna noted two romance-infused packages couples are already taking advantage of that offer a ton of intimate bang for the buck.
Firefly Nights
This delicious way to celebrate your summer of romance includes a one-night stay in one of Donna's cedar cabins or chalets. There you'll discover a fire pit complete with wood and kindling along with lounge chairs for sitting. A ready-to-grill dinner of marinated chicken breast and fresh fruit kabobs, potato salad, chips and beverages awaits, as does an uber romantic s'mores kit complete with marshmallows, candy bars and graham crackers. The cost? A budget-friendly $349.
Rest, Relax & Renew
This package includes a romantic stay in one of Donna's beautifully appointed villas. Your summer of romance kicks into full gear with an in-room couple's massage and the use of Donna's comfy robes during your stay. Silk rose petals and scented votive candles are arranged around your in-room Jacuzzi and bed, and a hot country breakfast is delivered to your door the next morning while you enjoy a later checkout time. The cost for this romantic stay is a modest $495.
"Everything we do here is about creating a special experience," Golden said. "People see the photos on our website and are impressed, but once they visit and experience all that we have to offer, they are blown away."

Donna's Premier Lodging is located at 5523 East St., in Berlin. Call 330-893-3068 for information or to make a reservation. Staffed office hours are 8 a.m.-8 p.m., Monday-Friday; Saturday and Sunday, 8 a.m.-5 p.m. Visit the website at DonnasOfBerlin.com and find them on Facebook at Donna's Premier Lodging.