Relaxing retreats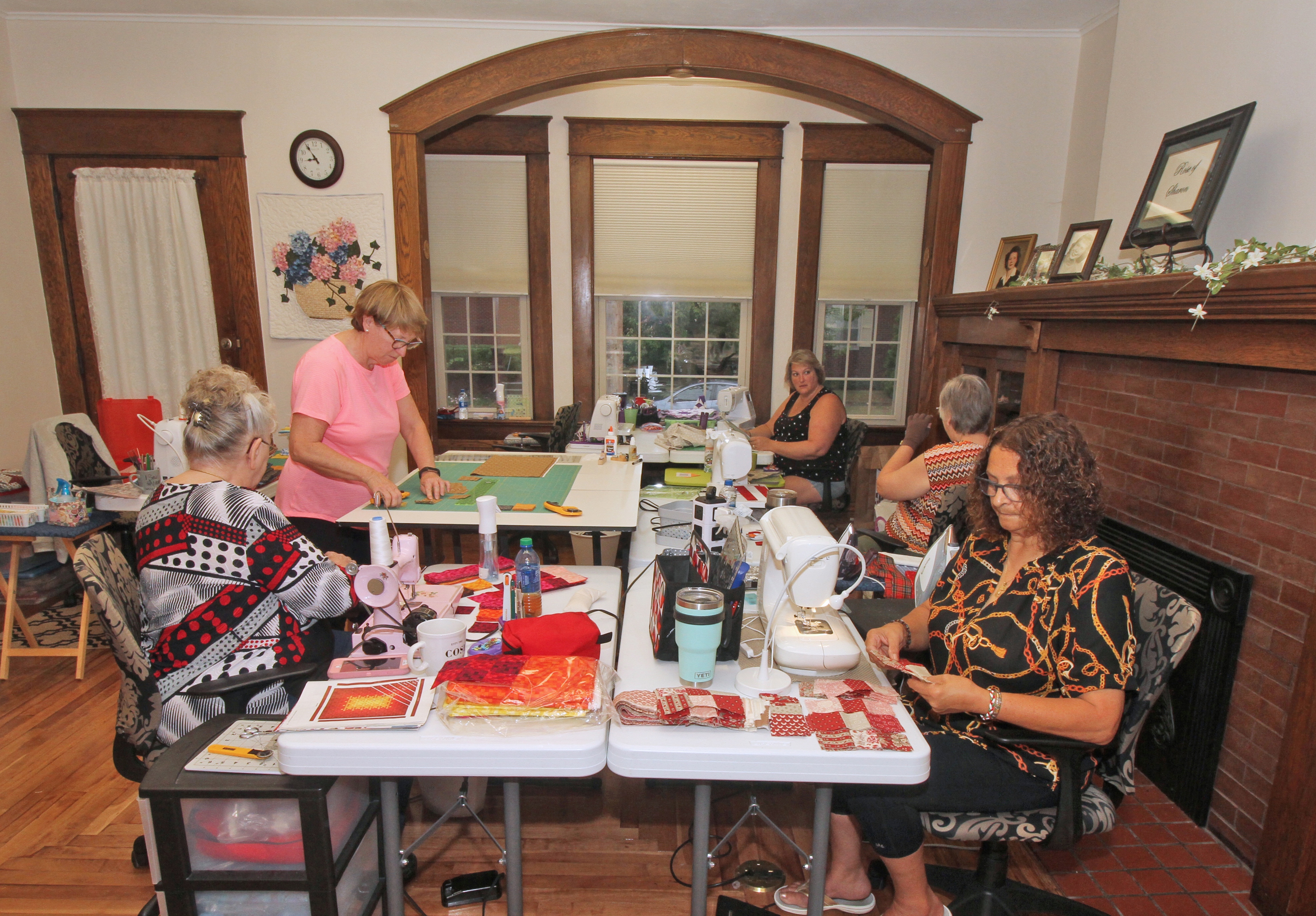 Randy McKee
During November and February, people can book retreats for any day, any number of days and any number of friends.
Situated in a charming historical venue, the Rose of Sharon Retreat, in Coshocton, offers a peaceful and relaxing getaway for quilters and other groups, co-owner Vickie Davis invited.
Rose of Sharon, which was established three years ago by Davis and her sister, Jacque Wagner, is a tribute to their mother, Sharon. A sign in front of the old home refers to Song of Solomon 2:1, the Bible's only reference to a Rose of Sharon.
"What makes us so much different from some other quilting retreats is the all-around experience," Davis said. "We're in a magnificent old stone house with a wrap-around porch and woodwork that has never been painted over since it was built in 1895. It was built by a circus performer, and in the attic you can still see the U-bolts where he would practice the trapeze."
The daughters' love for their mother provided the name.
Their love of quilting spawned the idea. They've each been at it for more than 30 years.
"We've enjoyed going to other quilting retreats and we said, why not have one in Coshocton?" Davis explained. "People come here to spend quiet days with old and newly-made friends, concentrating on quilting, scrap booking or other crafts they love doing. We have a well-lit lounge area, WiFi and air conditioning throughout the house, and a kitchen stocked with everything except food and a chef. Many guests enjoy taking their meals on the porch and taking walks down Fourth Street and Coshocton's historical areas."
Rose of Sharon features six bedrooms with 16 twin beds — all linens provided — and three bathrooms.
"We have design walls, comfortable seats and plenty of cutting tables," Wagner said. "There's even a quilting store only a couple blocks away."
Three types of retreats are offered:
• Private - You can book a private retreat for eight to 16 of your friends. You can book a two- or more night stay up to 12 months in advance or a one-night stay up to three months in advance.
• Open Sews - "Four times a year we offer a retreat where you can come and join other ladies who are not necessarily in your group," Wagner said. "It's a good opportunity to make new friends."
• Pick-n-Stitch - During November and February, people can book retreats for any day, any number of days and any number of friends. "Anything goes," Wagner said.
Retreats are ideal for business functions, youth groups and others. At a rate of only $60 per night per person the Rose of Sharon Retreat center is budget friendly. The facility is smoke- and alcohol-free.
The Rose of Sharon Retreat is located at 304 South Fourth Street, in Coshocton. You can learn more or book your retreat by calling 740-575-4275, or by visiting roseofsharonretreat.com. You also can find guest photos and additional information on the Facebook page @roseofsharonretreat.