Killbuck Valley Museum is a fantastic glimpse into history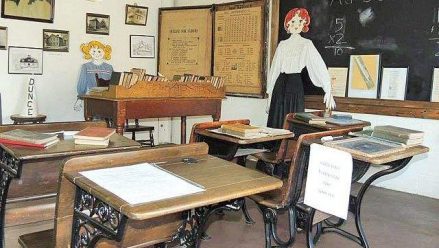 Randy L. McKee photo
There once was a mysterious time when giant mastodons roamed the earth.

Centuries ago, Indian tribes settled in throughout the area valleys and called this area their home.

Seven decades ago, many brave men volunteered to go off to faraway nations overseas and defend the basic freedoms of their country during World War II.

And not so long ago, school marms taught kindergarten through 12th grade students in one-room schoolhouses.

Those scenarios and many more are displayed in the confines of the Killbuck Valley Museum, a Holmes County treasure that may be one of the best-kept secrets around.

"We have a mineral collection that is second to none," Bob Porter, KVM board member, said. "I think any university would give just about anything for that."

History seeps from every nook and cranny of the museum. There is a giant mill stone from Duncan Mill, an archeological room displaying the mastodon digs of Dr. Nigel Brush, a large room of Indian artifacts, a geological room with rocks and minerals from all over the world, a replica one-room schoolhouse, a room filled with war memorabilia from local veterans who served in a number of wars, a taxidermy room and much more.

"We kiddingly call this The Hidden Gem because we are a little bit off the beaten path, and a lot of people from our county don't even know we are here," Porter said. "We aren't in the main tourism area, which is a bit of a struggle when it comes to bringing people here, but it is unbelievable what we have here in terms of historical relevance."

Porter said the saving grace has been the commitment of a number of friends of museums, people who firmly believe that the continued support of museums such as Killbuck Valley Museum are a vital part of the nation honoring and remembering its past.

He said the current board is also one that works well together.

"Our board has done a tremendous job of putting some incredible displays together," Porter said. "We are doing everything we can to make this museum an important part of our county."

The Killbuck Valley Museum is located on West Front Street in the heart of Killbuck. Its hours of operation are Saturday and Sunday from 1-4:30 p.m. May 1 through Oct. 31. Groups may call ahead at 330-264-2839 for special tours.

You can visit Killbuck Valley Museum on Facebook.