Humble beginnings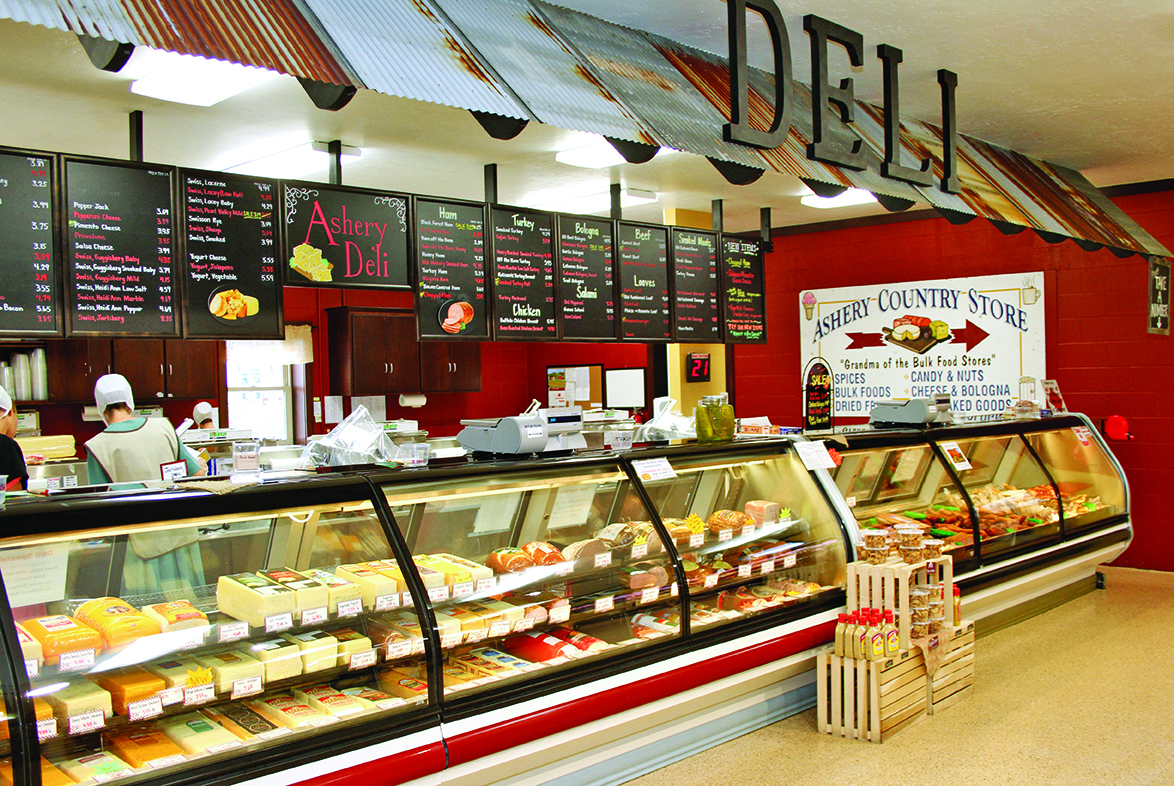 Randy L. McKee photo
Forty years ago it would be quite common for local folks to roll through Mt. Hope, Ohio, to a tiny, little store north of town. Visitors would stop buy to purchase bulk foods, but more often than not one of the most enjoyable perks would be chatting with owner Cecil Yoder.
When Cecil purchased the tiny business in 1979, he made each visit a positive experience for customers, thanks to his genuine, friendly disposition that put people at ease, a concept the Ashery maintains today with his son Curt, who has taken over in leadership.
"Dad was a tremendous people person, and we have built on that concept," Curt said. "Dad connected so well with his customers, and he was all about finding out what they wanted and how to serve them well."
Curt walks through the store conversing with customers like they were dear, old friends. The conversation comes easily, and the warmth from not just Curt, but all of the Ashery employees, makes shopping a pleasure.
The Ashery Country Store's namesake came from a humble beginning. In the early 1900s small asheries dotted America. Asheries were where people burned their wood when clearing their property. These asheries would take the ashes from the burned wood, boil it down to lye and mix it into homemade soaps, black salts and pearl ash, which went into the making of soap, glass and china.
One such ashery was across the road from where Ashery Country Store Bulk Foods resides today, and the name simply stuck.
When Cecil purchased the Ashery, which in 1979 was a simple storefront connected to a house, he knew nothing about the food industry.
"It wasn't even a business really. They sold flour and sugar," Curt said. "The former owners were actually going to tear it down."
However, Cecil had one thing going for him in his vision to see the possibilities. He purchased the home and store and began to create something special. His vision grew, and the store prospered. Curt has that same keen sense of vision, and the Ashery continues to grow through expansion.
Curt and his wife, Rhonda, have owned and operated Ashery Country Store Bulk Foods since 2005. The Ashery has grown several times to a 5,400 square foot retail facility.
The Ashery provides fresh, quality produce, snack mixes, spices, meats and bulk foods that are second to none. With a produce auction house close by the freshness of the products can be seen throughout the newly designed store. In addition the Ashery creates its own brands of snack mixes, and Cecil's frozen custard is a treat any time of the year. But even as it continues to grow, the Ashery has maintained that polite, down-home atmosphere that Cecil worked so hard to create.
Curt said that while there are bulk food stores around that provide many of the same quality items the Ashery showcases, there is something special about the Ashery that keeps customers coming back.
"There is a quaintness that makes this an experience," he said. "It isn't just this big grocery store where people come to get what they want. Our vision is to create a tasteful experience that goes beyond the food. We want people to feel at home."

Ashery Country Store Bulk Foods is located at 8922 Route 241, two miles north of Mount Hope. Call the store at 330-359-5615 or visit them on the web at www.asherycountrystore.com.