Dynamite dogs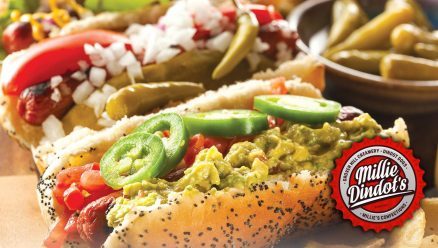 Randy L. McKee photo
There's plenty of debate over who invented the hot dog, but there's no question surrounding who reinvented it: Millie Dindot's.

The new Berlin, Ohio, eatery and retail experience—set to open in Spring of 2018—is named for the legendary Millie Dindot (pronounced DIHN-dot), the adventurous, outspoken matriarch of the Dindot family whose relatives include Wilbur and Orville Wright and celebrated Darke County, Ohio sharpshooter Annie Oakley who toured the country as a part of Buffalo Bill's Wild West Show.

It's this family's legacy of daring, out-of the-box thinkers that led to Millie Dindot's own mantra of "Don't do it like everybody else" and, ultimately, to what some are calling "the best hot dog in the world."

Dindot Dogs are not your run-of-the-mill concession stand hot dogs. The whopping eight-inch frankfurters stick out of both ends of the fresh-baked buns and are made with premium cuts of grass-fed beef raised right here in Ohio's Amish Country. Local butchers use the Dindot family's secret recipes, like Trail Bologna and Swiss Cheese, Garlic Knockwurst and even Chicken Tomato Basil. This isn't what's on the wieners; its what's in the wieners.

The menu features over-the-top concoction sinspired by Millie Dindot's many travels, including:

The Sonoran — A premium eight-inch dog topped with pico de gallo, crumbled bacon, cubed avocado, pickled jalapeno and sweet mayo.

The Banh Mi — A premium eight-inch dog with pickled carrots, fresh cucumbers, jalapenos, cilantro, mayo and hoisin sauce.

The Victor — An Italian specialty, apremium eight-inch Chicken Tomato Basil dog topped with red sauce and parmesan cheese.

The West Texan — A premium eight-inch dog with homemade chili topped with sour cream, cheddar cheese, crumbled bacon, corn chips and green onions.

In addition to house-made dogs, Millie Dindot's features Italian Sausage, German Kielbasa and a special bratwurst called "The Hammerschmidt," named for a great great aunt who once face-planted in her mashed potatoes during a family Thanksgiving dinner.

There are also sandwich options from trail bologna and corned beef to roast beef and hoagies, plus daily soup specials, salads and desserts like their famous filled cupcakes, mini cheesecakes and fry pies, while Millie Dindot's selection of vintage and craft sodas tops 300 labels. And be sure to check out the Family Photo Wall featuring historic photos of the wacky antics of Dindot family members with names like Rainwater, Zulo Vemba, Daddy Mutt and even women named Sam and Bert!

More Than Hot Dogs Millie Dindot's is actually three businesses in one. There's Dindot Dogs plus Millie's Confections and Grover Hill Creamery.

Over at Millie's Confections you'll discover all of the nostalgic candy you enjoyed as a kid (and can now share with your own kids and grandkids), including a vast section of black licorice. "Not everyone likes black licorice," says Millie's descendant Michael, "but those who do love it and can hardly find it anywhere. We have plenty. Truth be told, we have so much black licorice that some folks think it's nighttime in the middle of the day."

When it comes to candy, Millie doesn't dabble; she's all in. This includes bag-ityourself bulk candy plus a large assortment
of treats based on the suggestions of Millie Dindot's Facebook fans (you should go there and make sure your favorites make the list).

Best of all, you can choose virtually any candy from Millie's Confections or one of their filled cupcakes and the folks at Grover Hill Creamery (under the same roof) will throw it in a blender with your favorite flavor of hand-dipped ice cream to create the ultimate frozen treat that Millie calls, "The Barnstorm." "The name is based on the time Millie flew in a biplane through the open doors of an Amish Country barn," Michael explains. "She crashed the first time, but that didn't stop her from doing it again."

The new Millie Dindot's is located east of the square in downtown Berlin. You can find it via GPS at 4792 East Main Street, Millersburg OH 44654. The phone number is 855-DINDOTS (346-3687.) For current hours, visit MillieDindots.com. Parking in the rear for an easy walk to Millie's and the heart of downtown Berlin.