Cruise the historic Lincoln Highway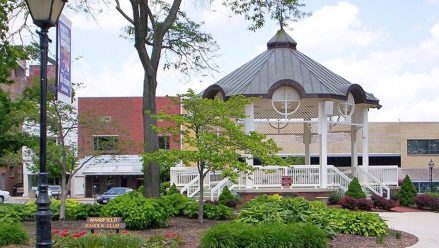 Ohio's Amish Country
4846
The sun's out, convertible top is down, the radio's blaring and life is good. What a treat to get away from the hustle and bustle of the big city, super highways and traffic jams. What better way to spend a few summer days than cruising along the historic Lincoln Highway? Conceived in 1912, the Lincoln Highway was dedicated as a national memorial to President Abraham Lincoln and was the first automobile road across America. Originally running coast to coast and connecting many cities, towns, and villages, it was a major factor in bringing a new level of prosperity to these smaller locales along the route. You can find a complete overview of the Highway at http://byways.org/explore/byways/52781.

Leisure cruising begs for some leg-stretching and rest breaks along the way and there are many spots along the Ohio Lincoln Highway historic byway around Mansfield and North Central Ohio to take a break. One option to stretch road weary legs is a stroll through Kingwood Center. This 47-acre estate and gardens, built by business tycoon and philanthropist Charles K. King in 1926, has a maze of garden paths, fountains, a duck pond, and gorgeous seasonal flowers and foliage.

Peacocks wander the colorful grounds and a spacious greenhouse is home to a variety of non-traditional plants from other regions of the country.

Central Park in downtown Mansfield warrants a stop and a few worthwhile photo ops. In 1996, a replica version of a 1928 concrete post marking the historic Lincoln Highway was placed here, the first of its kind. In the park is the bench where Brooks fed the pigeons in The Shawshank Redemption, which was filmed in Mansfield. It is one of 14 movie filming sites along The Shawshank Trail driving tour. More information on this travel adventure can be found at www.ShawshankTrail.com

Also on the square in downtown Mansfield, hungry travelers will find this spacious, light and airy restaurant, Ed Pickens Café on Main, a delight. Open Monday through Friday from 10 a.m. to 3 p.m. for lunch, the menu selections are varied; fresh, made from scratch soups, salads, specialty sandwiches, and sweet treats.

While downtown, spend the afternoon checking out the beautiful courtyards and architecture surrounding the Historic Carrousel District. Take your time and shop for art, books, upscale thrift store items, homemade candy and nuts, wine and olive oil, antiques, and even fine cigars. The heart of the district is the Richland Carrousel Park. This beautiful hand-carved wooden carrousel has more than 50 animals and two handicapped accessible chariots making riding easy for kids of all ages.

For those later summer travelers of the Lincoln Highway, the month of August is a bargain hunter's dream. One man's trash is another man's treasure. Spanning several states, people set up their tables and participate in the annual Lincoln Highway Buy Way Yard Sale August 9-11. Participants can list their information on the Buy Way website and shoppers can print out and use this information to plot their road trip. The list can be obtained at http://www.historicbyway.com.

West of Mansfield, tour Coopers Mill in Bucyrus. Observe as homemade jams and jellies are recreated from Grandma Cooper's recipe, and apple butter cooks in 50-gallon copper kettles over a wood burning hearth. The best part is sampling these homemade goodies and finding them in the Country Market and Gift Shop.

Cruise on in to nearby Galion for a stop at Brownella Cottage. This restored Victorian mansion, home of the controversial William M. Brown, a turn of the century political and religious leader, is replete with original furnishings and reportedly, original ghosts. Featured on My Ghost Story, paranormal buffs can check scheduled ghost-haunts at http://www.galionhistory.com/ghosts-haunts/. Daytime tours to enjoy this historic home are conducted Sunday afternoons, June through October.

For dinner, plan on stopping at Oak Park Tavern and Restaurant. Located on the original Lincoln Highway, east of Mansfield and five minutes from I-71 and Route 30, this 1940s style steakhouse boasts some of the finest steaks and Lake Erie perch.

Another option for road weary warriors calls for a little relaxation and a good night's sleep. Both Angelwood's Hideaway Bed and Breakfast and Quality Inn and Suites of Mansfield offer phenomenal Retro Packages. These include room, 50s style food and entertainment. Details can be found at http://www.mansfieldtourism.com/where-to-stay/packages/by-theme/retro-packages.

A listing of more Lincoln Highway attractions and overnight accommodations for a great immersion experience into the Mansfield area can be found at www.mansfieldtourism.com. ... Lincoln Highway casual road trip experience may be the perfect fit for the recession weary pocketbook this summer.