Bloom where you are planted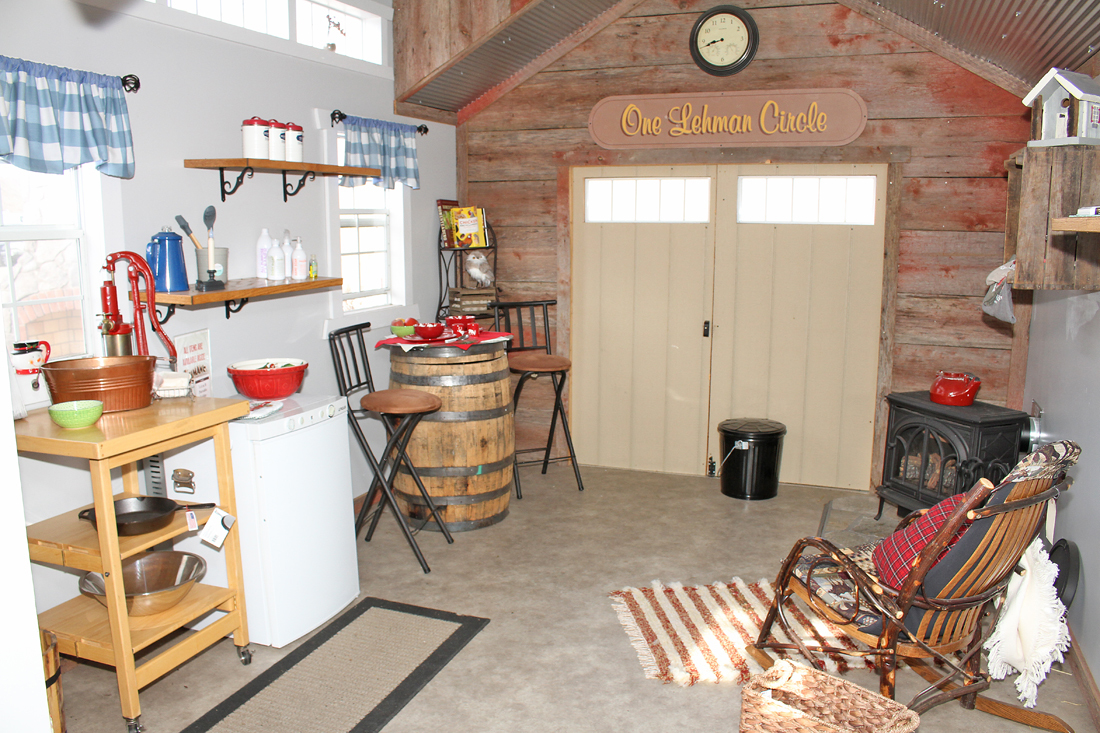 Randy L. McKee
The tiny house model was designed to optimize storage and living space and is ideal for "living off the grid.
Glenda Lehman Ervin encourages you to "bloom where you are planted." Gardening, said Ervin, director of marketing for Lehman's, the iconic family-owned mercantile located in Kidron, can be a gratifying way to engage with nature while producing healthier food than you'll probably find at the supermarket.

"Gardening helps to create a natural connection with the world in which we live," Ervin said. "It's fun and engaging for people from children to seniors. It's doing something tactile with your hands and literally digging in the dirt. My mom was a gardener. She tried wearing gardening gloves, and she just didn't like them be-cause getting her hands dirty and working in the soil gave her a feeling of satisfaction."

Importantly, Ervin said, "You can garden wherever you live. You don't necessarily need two acres and a horse, a goat and a chicken. Even if you live in the city, you can grow indoor plants. You can grow plants on your balcony. You can garden and eat healthy wherever you are."

Getting close to your food source, she said, is a key to enjoying tastier and more probably processed pretty far from where you are, and it may have been processed months before it landed on the shelf," she said. "The produce in grocery stores is often picked before it is actually ripe to allow it to ripen during transport. That means you may be missing some valuable nutrients. There's something satisfying about being able to pluck something right off the plant. You know exactly what's in it and where it came from."

Lehman's, she said, is there to help today's growing community of gardeners. "Our mission is to help you take the next step on your journey to a simpler life," she said.

Lehman's, which Ervin's father, Jay, opened in 1955, is known around the country as the go-to place for all the supplies one needs for independent, self-sufficient living. The spacious store carries a wide assortment of human-powered gardening and agricultural tools, soil products, critter deterrents and other agricultural accessories — and Lehman's knowledgeable staff is happy to answer questions and offer helpful pointers.

"In the past two years, we've seen a lot of people who were excited to get into gardening, but they just didn't know where to start," Ervin said. "We can help at the very beginning with the right hand tools. Trying to do anything with the wrong tools can be frustrating."

While stocking up on gardening supplies, you may want to take a tour of Lehman's tiny house.

"Our tiny house is 240 square feet of adorability and practicality," Ervin said. "People often ask where they would store their stuff if they lived in a tiny house. But that's the whole point. When you embrace a simpler lifestyle, you probably don't have so much stuff to store."

The tiny house model, which was built in partnership with Schrock Structures of Massillon, was designed to optimize storage and living space and is ideal for "living off the grid," Ervin said.

The five areas in the home include a kitchenette with a hand pump and gas refrigerator, a dining area with a whiskey barrel up-cycled table, a living room with two hickory rockers and a gas stove, and the mudroom, which is at the entrance to the house. A loft sleeping space, accessible by ladder, completes the home.

"People live in tiny homes, but they also can be used as a summer cabin, a second home or an onsite office," Ervin said. "We've even heard of people transporting them from sibling to sibling for the moth-er-in-law, so she can be with you, yet not in your house."

The Lehman's experience includes education. The store offers classes about myriad topics, from making maple syrup to baking pies to classes for children at very reasonable prices, Ervin said.

You can begin your journey to a simpler life with a visit to Lehman's, located at 4779 Kidron Road in Kidron. You can learn more about the store — and view a calendar of educational offerings — at Lehmans.com. You can call the store at 330-828-8828.