Blazing Trails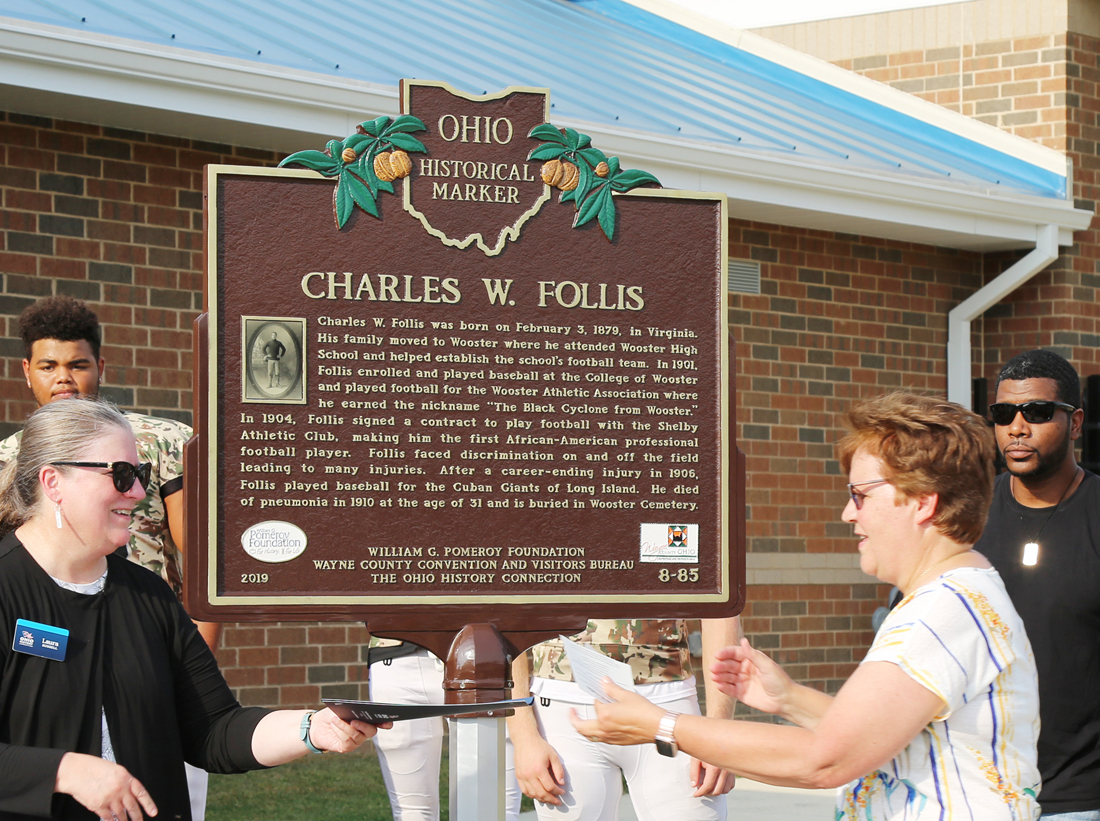 Wayne County welcomes visitors to stroll the streets of downtown Wooster, tour the charming shops and dine in any of the casual and fine dining restaurants this area has to offer.
"We have thousands of visitors each year who enjoy our county fair, quaint towns and touring our Amish community and experiencing the food and quality craftsmanship the Amish are famous for," said Marty Starkey, executive director, Wayne County Convention and Visitors Bureau. "And we've recently added an attraction that we're sure will be of great interest to anyone with a love of history, sports and this great community."
That's enough of a teaser. Starkey is talking about the now completed Charles Follis Trail in Wayne and Richland Counties. Raised in Wooster, Charles Follis was the first African American professional football player. After playing baseball at the College of Wooster in the late 1880s, Follis went on to play running back for the professional team, the Shelby Blues.
"A Richland County resident, Jim Stoner, took part in a play about Follis and had the idea to design a trail that people could follow by car visiting areas of interest from Follis's life," said Starkey. "It's one more thing that makes Wayne County a destination for people of all interests."
The Charles Follis Trail is a self-guided, 12-stop tour that immerses you in the life of this extraordinary athlete who made extraordinary contributions to professional football and its history.
"The tour introduces you to areas of this community you might never see," said Starkey. "You'll stop at the cemetery where Follis is buried, the original field where the Shelby team played football and much more."
The final stop is at the still-operating Weber's Bar, where the Shelby Blues either celebrated or drowned their sorrows after a game.
"The tour shines a light on one of our own who quietly made sports history and made Wayne County proud," said Starkey.
After you complete the Charles Follis Trail, be sure to visit some of the other unique attractions in Wayne County. At Lehman's, you'll find unique items to take you back to a simpler time. The J.M. Smucker Café offers food, product samples and a wide range of merchandise. You can even get your picture on a jelly
jar label.
"For hotel accommodations, we offer chains and boutique hotels like the St. Paul Hotel," said Starkey. "And the new, three-story Ace Hardware in the former Rubbermaid Building in downtown Wooster should not be missed."

For more information contact the
Wayne County Convention and Visitors Bureau at 800-362-6474 or check the website WCCVB.com. If you want to learn more about Charles Follis and the Trail check out the website BlackCyclone.org.