American Bus Association calls it a ... "Top 100 Event In America"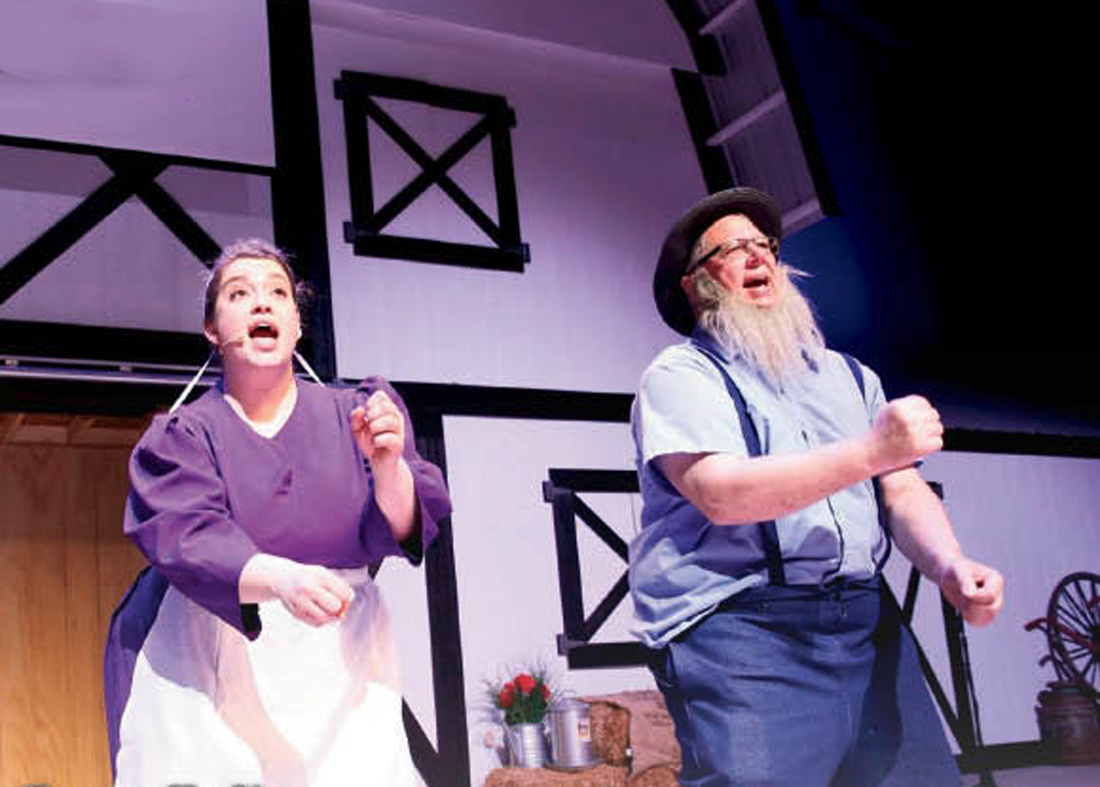 Looking for fun, family- friendly, wholesome and hilarious entertainment? Look no further than The Amish Country Theater in Berlin. For 13 years, The Amish Country Theater has been providing musical and comedy sketch entertainment reminiscent of variety shows of the past.
"The Amish Country Theater is a kind of 'Hee-Haw' meets 'SNL' mix," comedian and ventriloquist Ken Groves said. "We do four shows a week, along with the popular Land Cruises, special events and concerts. Join us for a family night out or stay for the weekend. There's always something new here."
Beginning in May through the last week of October, the variety shows run four nights each week. Then starting the first week of November, Christmas shows run through New Year's Day.
"After New Year's Day, we welcome different musical acts and tribute bands that round out the calendar until the shows start up again each May," Groves said.
Just what can you expect when you visit The Amish Country Theater? How about the comic stylings of original characters like Lynyrd, the lovable country bumpkin, and all of Ken Groves' characters, which he has created and honed over decades of entertaining people all around the world before settling right here.
"I started in the 1980s with my three original characters — Howard, the 93-year-old man; CW (Carved Wood); and George, the underweight champion of the world," Groves said. "I travelled the world and performed on 625 cruise ships and did shows in Vegas, Atlantic City, casinos around the country, military base tours and more. When I was asked to perform here, I knew this was something special, and I've loved being a part of providing this fun, family entertainment at The Amish Country Theater."
The new shows this season include "A Few Good Hens" every Thursday and Saturday and "Udder Nonsense" on Tuesday and Friday through October. Special events throughout the year include tributes to artists like John Denver, Frankie Valli, Elvis, Johnny Cash, Dolly Parton, Kenny Rogers, and bands like Journey and the Bee Gees. No matter what your musical tastes are, The Amish Country Theater has you covered with a full evening of entertainment.
"That was the original goal of ACT," Groves said. "Owners Jeff, Braden and Mike Conn had the idea for a comedy/variety show in this area to attract tourism and entertain visitors in the evenings. It got pretty quiet around here after 6 p.m., but The Amish Country Theater has changed all that."
The Amish Country Theater spent its first seven years in the converted old flea market space in Walnut Creek. As word of mouth spread, crowds grew, and more and more talented artists wanted to be a part of this growing attraction in Berlin. The theater was busting out of the market space, so a new 550-seat theater, hotel and event space were built and opened in July 2018.
That hotel and event space, The Berlin Encore Hotel & Suites, is just steps from the theater and minutes from all the shopping, culture and charm of Ohio's Amish Country.
The Encore Hotel accommodates large groups visiting Amish Country from all over the world, whether they're here to take advantage of everything the area offers or they're setting sail on the theater's one-of-a-kind Land Cruise, a popular all-inclusive vacation offering everything you love about a cruise — minus the water.
The Land Cruise has plans to launches a dozen times during 2024 for a two-night, three-day all-inclusive event, offering shows at the theater, food and accommodations at the Berlin Encore Hotel & Suites, which serves as the ship's restaurant and activities center.
Visit The Amish Country; explore the shops, markets and wineries all day; and stick around for all that The Amish Country Theater offers in the evenings. It's always a fun, relaxing and laugh-filled escape for couples, families and all visitors.

Amish Country Theater is located at 4365 State Route 39 in Berlin. For questions, to purchase tickets, make reservations and find information on accommodations, call 888-988-7469, email info@AmishCountryTheater.com or check the website AmishCountryTheater.com.